Type 1: Spherical (SPH) Only Power
60% people have only spherical (SPH) power with no Cylinder (CYL) and Axis (AXIS)

Note: For making these specs, we do not need other information of your prescription such as 6/6 or 6/4 or PD (pupillary distance)
Type 2: Spherical with Cylinder (CYL) Power
30% people also have a CYL power. Cylinder is an angular defect and it is prescribed with two variables – CYL and AXIS. If you have a CYL, you will have an AXIS, else none.

Note: For making these specs, we do not need other information of your prescription such as 6/6 or 6/4 or PD (pupillary distance)
Type 3: Bifocal / Progressive Power
This is for people who have both distance and near vision problem. 10% of people have this. And only if you want both powers in one specs, you need to go for this option. This power has a new variable "ADD" (Additional Power) which specifies the near spherical power.
In case you want only near power, you can fill in ADD value in Type 1 above. In case you want only far power in specs, you can again go for Type 1 or 2 above without the ADD power.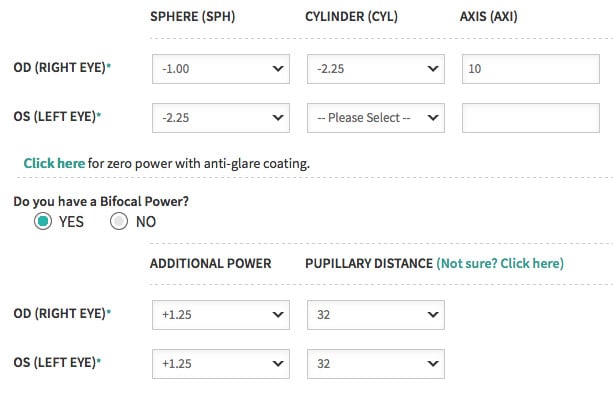 Note: For making these specs accurately, we need PD (pupillary distance),
If you have only one PD value above 50, then please divide that by 2 & fill in both
eyes equally. For example for 64 PD value, we have filled 32 and 32.
In case doctor has specified these separately for each eye, you can fill them separately.