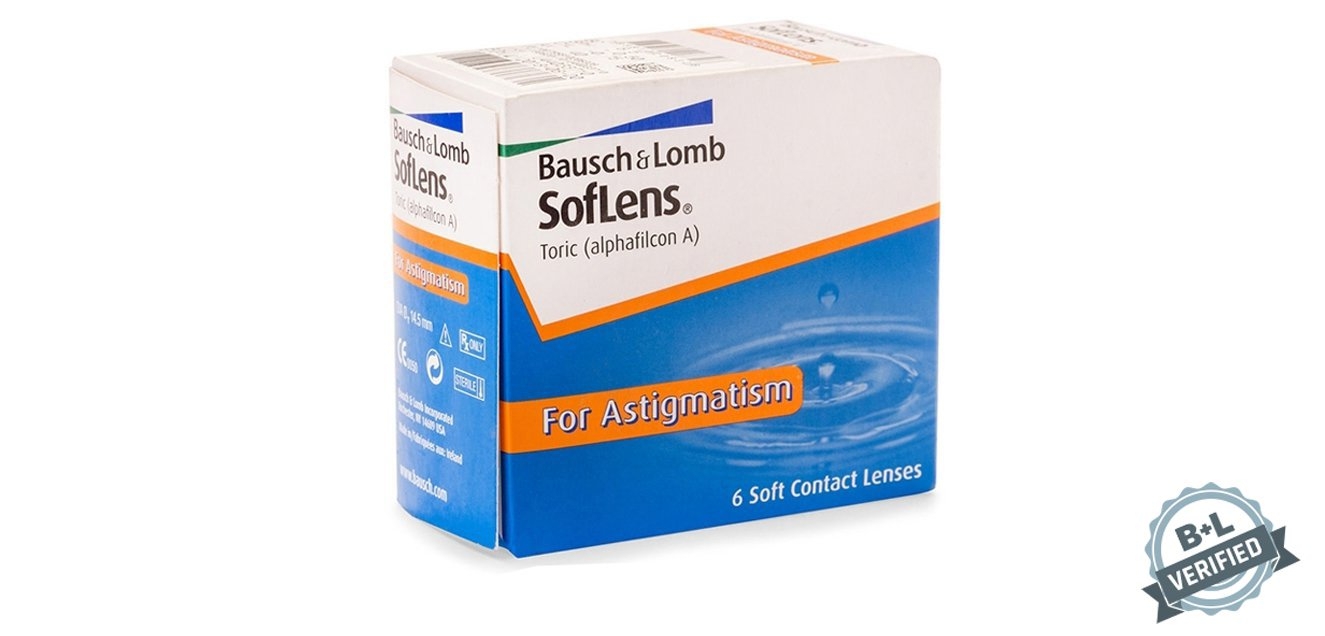 Product description
Soflens Toric (6 Lens per Box) Bausch & Lomb
Editor's Note
Soflens Toric Bausch & Lomb Lens are a boon to astigmatic eyeglass wearers who want to enjoy the convenience of contact lenses and for those spherically masked astigmatic patients who need better visual acuity.
Description:
Offers great wearing experience
High water content
Extremely soft and comfortable
No redness, irritation or dryness
Lo-Torque design to ensured visual acuity
Product Features:
Brand: Bausch & Lomb
Water Content: 66.00%
Lens Material: Alphafilcon A
Lens Type: Monthly Disposable
Usage Duration: 1 month
Packaging: 6 lens per box
Safety Measures & Expiry:
Care: Wash your hands with soap and water and dry them completely before touching the lenses.
Always clean your lenses gently with fresh contact lens cleaning solution.
Make sure you keep your lenses in a clean lens case to avoid eye irritation or infection.
Avoid wearing contacts overnight or while swimming.
Keep your contacts away from sharp objects, heat and pollutants.
Expiry: Minimum 1 year from the date of purchase
Technical information
Lens MaterialAlphafilcon A
ExpiryMin. 1 year from date of purchase
REVIEWS
Excellent Product
I am a Brazilian and when I was living in India for business purposes I ordered these lenses from Lenskart. I have high myopia and astigmatism. This product is excellent. I wear my lenses everyday from morning till evening. I really recommend this product on Lenskart.
GREAT!!!
GREAT!!! DELIVERED IN A DAY. PRODUCT IS GENUINE
Excellent service great product
I live in Fiji and I ordered these over the phone and got it delivered to a friend who then posted it to me. I haven't seen better prior to using these lenses. It will be awesome though if Lenskart accepts international cards. Thank you.
gaurav malhotra
2017-01-25
Great service
lenskart has always offered good discounts, great services, high qaulity product and high customer satisfaction. thanks For prompt replies and swift services
Very good. Comfortable.
I was using the Johnson & Johnson contact lenses for a long time. But I have always found them a bit heavy. These are very comfortable. You can feel your eyes breathe.
Excellent
Excellent product at reasonable price..
Excellent service and product
Right from the beginning to end , it was a wonderful experience and quality and product wise also everything was excellent . It was just wow !!
Purchase of the Product
Its very nice product
Excellent
i bought it Baush&Lomb toric lenses from lenskart store at R S Puram,coimbatore. for my daughter, good price than local eye hospital,acurate precriptrion power, excellent service my daughter never feel good like this before
the BEST
The best product to use. people say lenses are for 6 hr use. I used to use dis lens for about 10 hrs daily without any issues
Very good
I have ordered torric lens from lenskart store,i order was received at store within 3 days from the order.I have collected the lens frm store and as i was a new user for contact lens,they have given a session for the proper way to use it.They asked me to keep and remove my lens thrice so that i will be comfortable wearing it. Really good service.I appreciate their effort !!! :)
Best toric lenses I've tried-comfortable to wear all day..!!
These are very comfortable to wear. I wear them for the whole day without any problem.
VERY NICE
VERY NICE CONTACT LENSES WITH REASONABLE PRICE AND PROMPT DELIVERY
GOOD ONE
Please implement to all places minimum send by post
Product as expected
The product is as expected of any retail vendor. No issues.
Worth for money
This is my first order from Lens kart they delivered before the estimated date does a very decent job in delivering. Product which came with good quality am fully satisfied with delivery and the money which I spent for this product worth for money.
Very satisfied
Great specs power to lens power conversion tool.. It works perfectly.. I bought the lenses without considering any doctor and it worked just fine. Great product. Great delivery. Thanks lenskart
Fully Satisfied
Lens quality is very good , i got the product much cheaper than local optical stores. I will prefer my next lens from Lens kart only. Thank you Lenskart .
Good quality soft lenses
Good quality soft lenses.
best product
getting such a brand at reasonable price
Excellent Product
Excellent product of reputed brand at the most affordable price.
Excellent!
Awesome product. Great spectacle lens to contact lens conversion tool. Fast delivery.
Good Quality
I am highly satisfied with their Door Step Eye Checkup Service and efficient delivery of products. Their variety of discounts bring the expensive products in my budget range.
Using from 2.5yrs
easy to use, no side effects and affordable price..
Excellent Product
Have been using B&L Toric since the time it was launched. They are awesome except for a bit of blurred night vision while staring at powerful headlights. If you have cylindrical axis, do not look further, Toric is for you. They are soft & let your eyes breathe. It feels like nothing & i have to check if lens are still in eye or not. B&L you brought such a awesome product. Lenskart has estimated a shipping time of 15-20 days, but i received my product in a week. Excellent shipping. Only downer is packaging, it is not strong as such delicate products need to be packed in a stronger box rather than brown thin cardboard box. Hope Lenskart looks into this this.
Excellent
Purchased it for my wife and she says that it feels much better in quality than that is bought from the regular Optics store! With many offers, I think Lenskart will be my go to destination when I intend to shop for the product.
Excellent Product and Product package, terribly bad and irresponsible bluedart services, huge communication gap in the business model
Being a regular customer of these lenses this was my 3rd purchase of the same from Lenskart having had pleasant purchase experiences via FEDEX. This time also the product was delivered much in advance to BlueDart services and they did deliver everything but the product. What happened was, 1. Did not even appear for a delivery and sent'' consignee not available'' message to Lenskart 2. Rude and irresponsible customer service of Bluedart, refusal to accept their mistake. 3. Erroneous communication of Bluedart wth Lenskart while Lenskart is not kept in loop in any interaction with customer. 4. Lenskart failed to trace the wrong message of Bluedart due to lack of communication with me(customer) 5. I TAUGHT Bluedart that they should call the customer before they come to deliver. 6. After a follow up of 10-15 days from the date of delivery I finally received my product. Recommendations to customers- Be very straight with Bluedart services and force them to call you prior delivery and to keep Lenskart in loop Recommendations to Lenskart- Either fix your delivery services / get a new one/ provide compensation to the customer for all the trouble and dissatisfaction caused to prevent a mass negative word of mouth.
Comfortable
This is the lens that i have tried and tested .. troic lens have clarity and comfort for 8 hrs
Excellent value for money
Better in comfort from bausch & Lomb 59.
my experience.
Wearing Bosch & Lomb for the last 14 years , never faced any problem & my eye sight is stable since then.. Very much comfortable to wear excelent product..
Super
Super.. Try its really good.
nice
nice ...no one could offer at this price
good toric lens
as we all know toric lens user have very limited choice and among them... this seems to be very good! i have just put on.. amazing feeling, don't feel like i'm wearing it... !
Good
Thanks...u should mark on box left and right eye
quite satisfied
soon gonna capture ur hearts .......they know how to do good service and good dealing with customers...quite good .....satisfied with door step eye check up .....atul,sachin ,done a good jab
Better than most...
These lenses are fairly comfortable even after prolonged usage. Sometimes the axis does get disturbed and eyes get dry. But after using a lubricating eye drop it gets better.
Good Product
It is good product.
very nice...
very nice produt with best price..
great value for money
Good packaging and good for value products
Perfect place to buy at cheaper rate
It is fantastic.
Good
The quality of the lens is ok. But i appreciate the service. The customer care is very good.
Great Comfortable- Delivery takes time
Product is awesome. The Delivery of Lenskart is not very fast for toric lens it takes time but i guess this is case everywhere. Spherical on the other hand are delviered promptly. Overall the product has no complaints from myside
use it regularly
Itz jst Awsme
Comfortable to Wear
Nice one... its very comfortable to wear.. good product
How Long to Use
2015-10-08
How long can this be used continuously
How long can this be used continuously - like 8 hours or so?
How long can this be wore continuously?
How long can this be wore continuously?
Good
The product is good but lenskart delivered me the product very late , didnt keep up the promised date of delivery
good lens but dont buy from lesnkart
dont buy from lenskart. They have become pathetic and now take a month to deliver a lens.
Product Id : 38721
Soflens Toric (6 Lens per Box) Bausch & Lomb
ORDER ON PHONE
(GIVE MISSED CALL:
+91 8470007367
)
CHECK DELIVERY OPTIONS
Please Enter Valid Pincode
DELIVERY OPTIONS TO CHANGE
Last Purchased 37 Minutes ago by Greeshma R from Chennai