Product Description
Maui Jim Freight Trains H326-23 Metallic Gloss Copper HCL Bronze Sunglasses
Maui Jim Freight Trains H326-23 Brown Brown Men's Sunglasses is meant for men who love designer sunglasses. The full rim frame of this lenses made from high quality titanium material which can bear all types of stress and strain over a long sequence. These sunglasses are the perfect blend of style and durability. The brown coloured lenses help to improve contrast clarity depth perception and also protect the eyes of the wearer from bright light. Square frame shape of the lenses provides a perfect finishing touch to this pair making it suitable to wear with any kind of casual or formal attire. These sunglasses come with 62-18-135 specifications. These sunglasses have been designed to perfection keeping in touch with the existing fashion trends in the market and will help to boost your confidence and body language helping you discover the new you.

Maui Jim has below 7 Layer lens which makes it unique:
1) WATERPROOF AND OLEOPHOBIC COATING Waterproof to shed water and snow. Oleophobic to repel grease and make smudges and fingerprints easier to wipe away on both the front and back of the lens.
2) ANTI-REFLECTIVE TREATMENT Blocks reflected light and annoying glare from behind to provide a clear view and eliminate eye fatigue.
3) CLEARSHELL® SCRATCH-RESISTANT TREATMENT MauiPure™ Maui Evolution® and Polycarbonate lenses perform better longer with the added durability of our CLEARSHELL® treatment found on both the front and back of the lens.
4) COLOR ENHANCING LENSES Maui Jim's optically correct distortion-free lenses feature patented lens treatments or rare earth elements to infuse views with color.
5) POLARIZING FILM Eliminates reflected glare from any flat smooth or shiny surface for a cleaner crisper view. Makes it possible to see below the surface of the water.
6) BI-GRADIENT Adds protection against overhead and reflected glare via a protective mirror at the top and bottom of the lens that "squints" for you.
7) MAUIGRADIENT™ A darker application at the top that gradually gets lighter moving down the lens so the appropriate amount of light is allowed to filter through certain areas while less filters through in places where protection is paramount.
To know more about the advanced technology on Maui Jim sunglasses, click the link below:
PolarizedPlus2 Treatment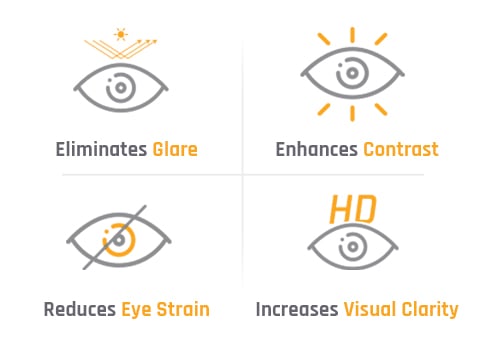 Technical Information
technical
general
Model No.
Freight Trains H326-23
Frame Dimensions
62-18-135
Weight
0.6000
(Learn More)
Material
Titanium (High Strength Light-Weight)
Frame Material
Titanium

(Learn More)
Temple Material
Maui Flex

(Learn More)
Lens Material
Maui Evolution
Product Warranty
2 years International Warranty

(Know More)
Lens Technology
Polarized Plus2 Technology and 100% UV Protection (UV 400)