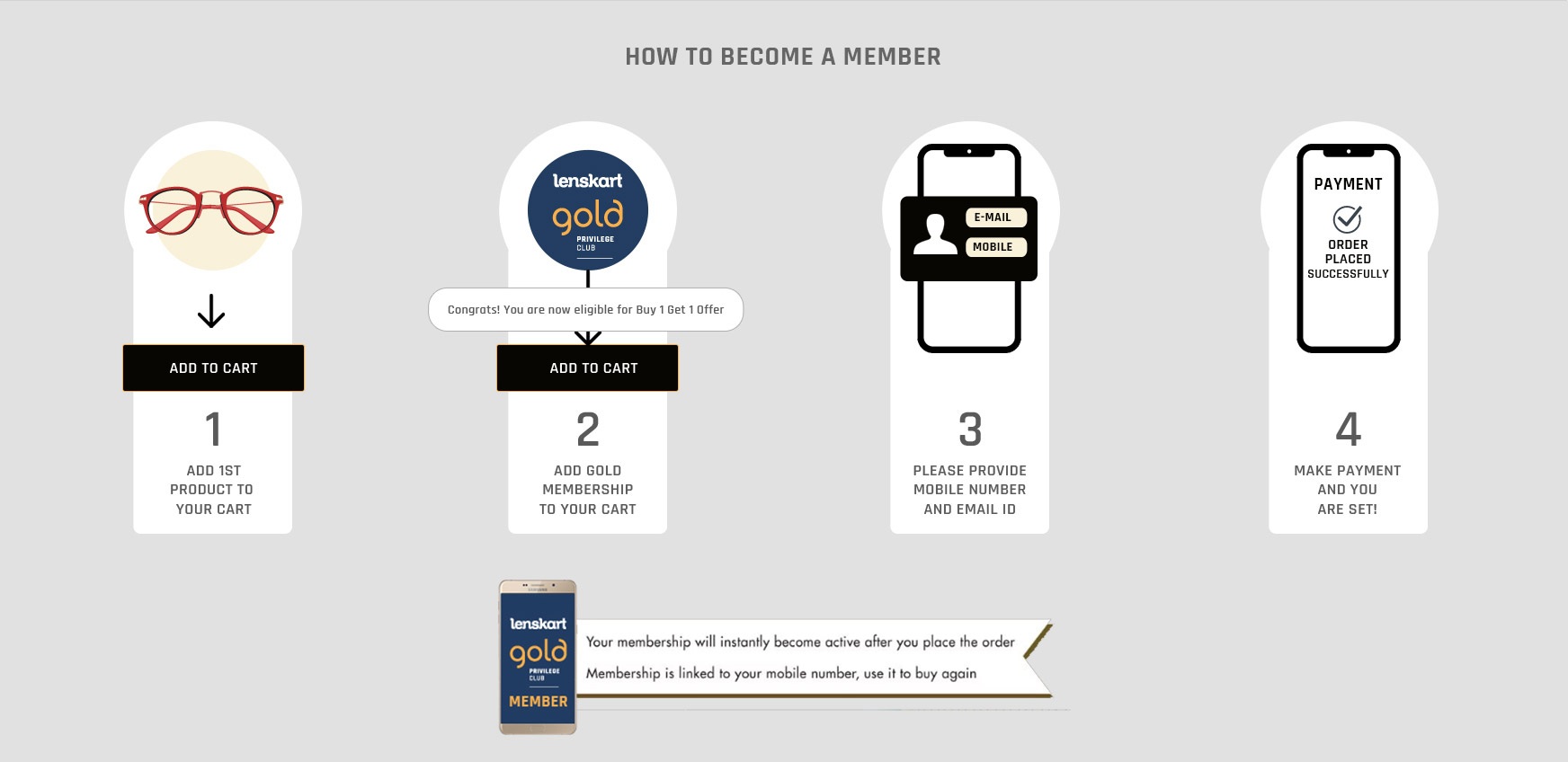 Terms & Conditions
‣ Membership is valid for 365 days from date of purchase.
‣ Share membership with friends and family by sharing your phone number with them. This phone number will also act as your membership number.
‣ Membership benefits are valid on Vincent Chase and John Jacobs (For eyeglasses & sunglasses); not valid on other brands such as Ray-Ban, Oakley, Carrera etc
‣ Buy one get one can be availed at Eyeglasses+Sunglasses / Eyeglasses+Eyeglasses / Sunglasses+Sunglasses.
‣ Membership benefits can be used 3 times a month and 12 times a year.
‣ Membership benefits are applicable at App, website, 500+ stores & Home try on service.
‣ Membership is now applicable on Contact lenses as well. Free 720ml Aqualens Comfort Solution worth Rs.880 with every Contact lens order worth Rs.1,000 or more.
‣ Membership cannot be returned or refunded.
‣ Both products need to be added to cart to avail BOGO.
Frequently Asked Questions
Gold membership Price & Duration
Q1. What is the price of the membership plan ?
Gold Membership costs Rs.600 for 1 year & 700 for 2 years
Q2. What is the tax applicable on the membership?
18% GST
Q3. Is this price a onetime payment ?
Yes, valid for 365 in case of 1 year membership and 730 days in case of 2 year membership from the date of the purchase
Q4. Can Gold membership be returned or refunded ?
No, Gold membership can't be returned or refunded, it can however be shared with your friends and family.
Q5. Can I use membership with LK cash in the same order ?
Yes, Lenskart cash can be used along with the Gold Membership
Q6. Can I club Sunglasses with a pair of Eyeglasses or both of the pairs have to be eyeglasses ?
Absolutely. With Gold membership you can buy two eyeglasses or one eyeglass & one sunglass under the Buy 1 Get 1 offer
Q7. What happens if you buy two products of different prices ?
In case you buy two products of different prices, lower priced product is free
Renewal FAQs
Q1. What is the price of renewing Gold Membership ?
If you renew your Gold membership before expiry date you can avail flat 50% discount on current membership price and need to pay just Rs. 300 for 1 year Gold membership and Rs.350 for 2 year Gold membership
Q2. If some days are left in my membership expiry, will that be added to my new subscription ?
Absolutely, Numbers of days left in membership expiry will be added to the current subscription. For Example, if you renew when 37 days are left in membership expiry then new subscription is valid for 365+37 days