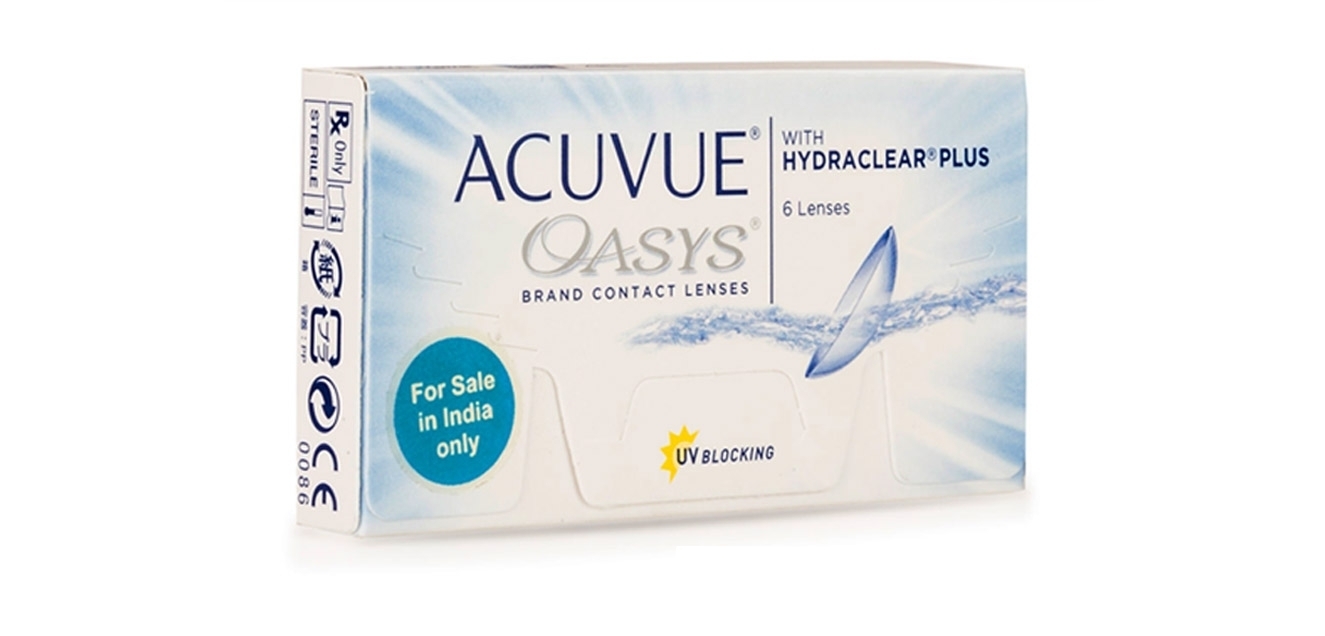 Product description
ACUVUE OASYS with HYDRACLEAR Plus Johnson & Johnson - Only Minus Power (6 Lens per Box)
Editor's Note
Johnson & Johnson ACUVUE OASYS with HYDRACLEAR Plus - Only Minus Power (6 Lenses/box) are designed to impart comfort and moisture to the eyes. It makes the wearing experience very smooth especially when your eyes dry out after long working hours.
Description:
Offer great wearing experience
High water content
Extremely soft and comfortable lenses
No redness, irritation or dryness
Silicone Hydrogel material
Product Features:
Brand: Johnson & Johnson
Water Content: 38%
Lens Material: Silicone Hydrogel
Lens Type: Two Weekly Disposable
Usage Duration: 2 weeks
Packaging: 6 Lens per box
Safety Measures & Expiry:
Care: Wash your hands with soap and water and dry them completely before touching the lenses.
Always clean your lenses gently with fresh contact lens cleaning solution.
Make sure you keep your lenses in a clean lens case to avoid eye irritation or infection.
Avoid wearing contacts overnight or while swimming.
Keep your contacts away from sharp objects, heat and pollutants.
Expiry: Minimum 1 year from the date of purchase
Technical information
Type

Two Weekly Disposable
Lens Material

silicone hydrogel
Expiry

Min. 1 year from date of purchase
REVIEWS
Best in comfort
I have been a lens wearer for over a decade. My friend who travels abroad often suggested that I try Acuvue Oasys. I tried about three years back and have been super comfortable and I wear my lens from morning t late night.
great
good for long wearing, eyes are comfortable
BEST LENSES EVER ! JUST GO FOR THEM !
I have been using contact lenses for quite a long time now. I tried many types of lenses but was always dissatisfied with the comfort, itching eyes, redness etc. I was so frustrated to a point that I even stopped using lenses for over a year as my belief in them was gone. I thought lenses are no good at all at least for sensitive eye people like me. Then I found Acuvue oasys with hydraclear plus after lot of research for sensitive eyes and reading lots of reviews thought to give it a try. And to my surprise these are the best ever lenses I have put in my eyes. Trust me its one of the best lenses which is so comfortable that you will even forget that you have them on. If you are someone reading reviews to get the best lens to comfort your eyes then believe me don't look further your search ends here. I am writing this review after using this lens for over a month now and I am not someone who goes to write a review but this product is sooooo good that I could stop myself from writing about it. So happy with my decision. For me now this is going to be THE LENS at least for a few years now.
Excellent! Best available in market.
Excellent! Best available in market.
Very Comfortable
By far this is the best version I have used in last 6-7 years. Eyes dont get dehydrated very quickly and it almost feels like nothing is there inside your eyes.
excellent
Lasts for a good 12 hours before drying sets in. Comfort is on spot, and excellent for use anywhere.
Best lenses
These lenses are the best available in the market. I have been using these lenses for long time without any issues. LENSKART delivery was good and the packaging was excellent. When I ordered these lenses on LENSKART, it was mentioned in the product description that the water content 58%. When I received the boxes, I find that the water content is 38% as mentioned on the boxes which is perfectly normal. The information was wrong on the website. So I contacted LENSKART people and informed them. Now I see that they have changed the water content to 38% in the product description. :-)
Always comfortable to wear
Doesn't irritate my eyes.
My first lens and loved it
This is the first time I am using contacts and my first lens ins Acuvue Oasys, and I love it - Doesn't even feel that it's in my eyes - No effect of drying It is true that the lenses are little hard to remove and wear. That's because of its very soft nature which makes sure that it is comfortable when in your eyes. I have seen many people complaining about the quality of the lens. They say the lens is torn off or damaged. I have used one full box now and there were no issues. I would recommend this product to anyone
Great Buy
I absolutely love these J&J bi-weekly lenses. This particular product is very comfortable. I have tried the monthly disposable of the said brand too but I found them a tad bit uncomfortable.
Excellent product
Perfect and safety for eyes .
Good product at affordable price
I have ordered this product 3rd time , product and delivery was perfect. Thanks.
the best contact lens
Great comfort... The best contact lens ever in my life time
Read This.
I have been using this contact lens for 5 years now and trust me you will never even feel its presence in the eye, wear as long as u like it, even sleep wearing it; it wont cause u any trouble WHATSOEVER. (i personally have slept wearing this lens quite some times, the O2 levels of the lens is amazing) the pricing is a little bit steep but quality really does count when it comes to your eyes. !
Best in the price range!
I've been using Acuvue oasys for 2years now. Not many choices in bi-weekly disposable lenses and this seemed to be considerably expensive even in the HD range. But, once I tried these out, I realized how amazing they were. Absolute bargain at this price range! I've been using monthly disposable and switching to these was a great releif. They are extremely light and can be worn as long as you wish to practically! The other lenses give me a heavy feeling after 8-10 hours.. I wear these starting 7am all the way until i go to sleep. On few occassions I have worn it overnight during flight travel and although it is not recoomeneded to wear for long stints, I had to keep them on as I forgot to carry my new pair or spectacles. This stayed on for 15hours including few hours of sleep during airtravel! Tried out visionexpress daily disposable lenses in between. Although the daily disposible ones from vision express are much lighter and obviously meant to last longer, I found them getting dry too soon and urging me to take them off within 10hours... so i switched back to oasys.Glad i did! Highly recommedned along with bio-true solution.
best
The best contact lens in the world by many top eye care websites . n they are .
excellent
They are extremely comfortable and highly recommended for those who wear for extended hours. I have been wearing them comfortably for 14-16 hours without any dryness or irritation. I just wish the delivery was sooner of the product. It took over 2 weeks!
Good
Quality is good and easy to use
Excellent Lenses : Acuve Oasys
These lenses are very good for extended wear. Once / twice, I slept wearing them but fortunately didnot get any red eye or did not feel any dryness the next day. Could use them even during Swimming.
Best lens I have ever used
I am using J&J lenses from more than 4 years and these Lenses are one of the best they have come with . I even fell asleep so many time with lenses on and never felt any thing wrong .
A Good Product for sensitive & dry Eyes
I already tried many types of lenses & ended up to Oasys. It is really a good product, good for people having the problem of dryness due to lenses. These lenses despite of having less water content having v.good water retention capacity, so it maintains the wetness level of eyes, as sometimes I forgot that I wore lenses. Worth trying product. I am cutting 1 point as it is costlier than the other in the market, & its too heavy for the pocket.
Thumbs up
Good and efficient have been using for past 10 years.
Good product.
It was a good product, with prompt delivery.
Good lens but you may face dryness
The lenses are good if not a constant computer user. I have faced dryness in eyes.
Good Product
Good Product . The delivery from Lenskart was awesome!!!
very good
I have been using these lenses for a couple of years now. It's a very good product and I wold recommend it highly
Most hydrated pair of lens
I have been using ACUVUE Oasis for a very long time now and have never had a complaint. They keep my eyes moist at all times, which is a very important requirement when we wear lenses. I have no complaints with this product so far.
Jignesh Gangani
2014-11-21
Great Lenses
Prompt delivery from Lenskart. Packaging could have been better as the lens boxes were loosely put in a cardboard box. Previously I was using Bausch & Lomb Softlens but they were making my eyes feel dry and itchy. I couldn't were them for more than an hour. But OASYS lens feel great on the eye. They don't make my eyes feel dry anymore. They also feel softer than B&L's lenses.
acuvue oasys
I feel so comfortable..
Better than other lenses
I always suffer from dryness and itching problem with lenses. I tried these lenses, I got some dryness after removal of the lenses but it is better than any other lenses I ever used. So for me it 1 of the best option to have it.
Paran_Jalandhar
2013-06-03
extremely nice to wear
These lenses are extremely nice to wear. My earlier lenses were somewhat problematic that is why I tried these lenses. These are a good choice if one has to wear them for long hours. These are so soft and comfortable that at times I forget that I am using contact lenses. Also these lenses do not etch or cause any irritation or redness in eyes. The moisture-rich wetting agent in these lenses combats the dryness when you work in front of screen for hours. To add on, Lenskart offers a 15 per cent discount on these lenses.
ACUVUE OASYS with HYDRACLEAR Plus Johnson & Johnson - Only Minus Power (6 Lens per Box)
ORDER ON PHONE
(GIVE MISSED CALL:
+91 8470007367
)
CHECK DELIVERY OPTIONS
Please Enter Valid Pincode
DELIVERY OPTIONS TO
CHANGE
Last Purchased 11 Hours by Vishal from Navi Mumbai