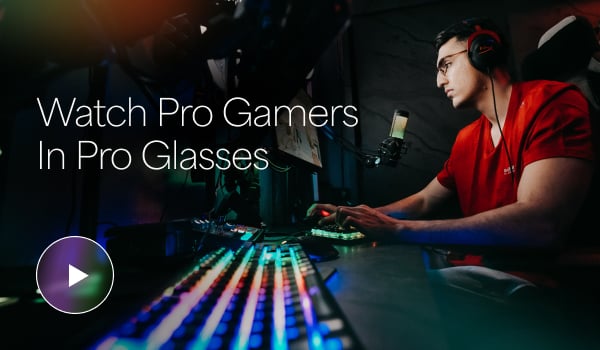 Made with Lenskart BLU high-quality
CR-39 lenses that block harmful blue light
>90% under
410nm spectrum
>90% under 410nm spectrum

>45% on the 410nm - 450nm spectrum
>45% on the
410nm - 450nm spectrum
Level Up Your
Virtual Gaming Experience
Level Up Your Virtual Gaming Experience


No eye strains & headaches
No eye strains
& headaches

For a seamless visual experience
For a seamless
visual experience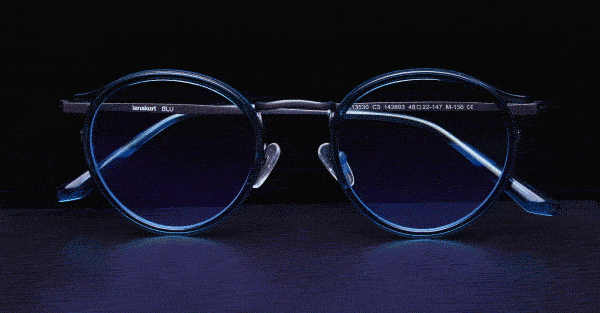 Frequently Asked Questions
Do gamers wear glasses ?
Gamers spend hours in front of screens with high levels of exposure to blue light and screen glare. Wearing blue-light glasses will help reduce long-term eye problems and create a better gaming experience.
Why should gamers wear glasses ?
Long hours of gaming can cause eye-fatigue caused by screen glare and blue light exposure. Glasses designed for gamers help ease the strain of screen-time while improving the quality of experience with crisp lenses for sharper colors and viewing
Why do Pro gamers wear glasses ?
Pro gamers are very prone to eye-fatigue and issues caused by screen glare that prevent them from performing at their fullest capacity during long hours of playing. The right kind of glasses keep tired eyes and bay and elevate their gaming experience with sharper, no-glare image.
Should gamers worry about blu light while playing video games ?
Blue light is especially harmful for gamers who do not always alleviate eye strain at regular intervals. Blue light emitted from most gaming screens creates tired eyes and discomfort.
How can gamers protect their eyes from blu light ?
Blue light glasses that protect against exposure are the best way to protect your eyes while gaming.
What are eye symptoms gamers should watchout for ?
Soreness, discomfort, blurry vision are common watchout for gamers.
I have power specs, is there any special gamer glasses available for me from Lenskart ?
You can get your gaming glasses with or without power from Lenskart.
Where can i buy gamer glasses from Lenskart ?
Gaming glasses are available online and in all Lenskart stores across the country.
Is it advised to do an eye test for Gamers ??
As gamers are regularly exposed to long hours of blue light and intense eye strain it is advised to get eye tests done regularly to identify any visual impairment on time.