What is
LK Cash
/
LK Cash+
?
LK Cash/LK Cash+ is Lenskart's promotional currency which can be used to make purchase on Lenskart platform across all devices.
It can be used for extra discounts, over & above the ongoing site wide promotions.
Current
LK Cash
Usage Conditions
LK Cash will give Rs.50 off on orders above 1499. On all Eyeglasses & Sunglasses
LK Cash wont apply on EOSS Brands (Mask, Fallon Colby, Vincent Chase VC)
Can be used upto 50% of cart value on Home Eye Check Up
Use LK Cash option on the final step of order placement
1 LK Cash = Rs 1 (With 1 month expiry point)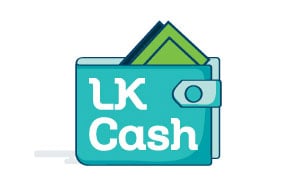 LK Cash is Promotional Bonus Cash credited in your Lenskart Wallet account by us solely in connection with Lenskart's promotional and marketing campaigns.
It is non-refundable, non-transferable, can't be transferred to a Bank Account or any other wallet.
LK Cash will expire as per applicable offer terms and can be used only for purchasing select products on www.lenskart.com or Lenskart's Android/iOS App.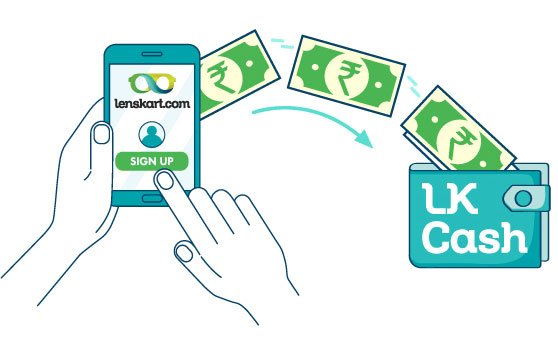 Sign Up Bonus:

Rs.50

Bonus LK Cash Credit during promotional events
More options which will be notified as and when launched
Use LK Cash option on the final step of order placement
1 LK Cash = Rs 1 (valid for 1 month after earning lkcash)
LK Cash will give Rs.50 off on orders above 1499. On all Eyeglasses & Sunglasses
LK Cash wont apply on EOSS Brands (Mask, Fallon Colby, Vincent Chase VC)
Can be used upto 50% of cart value on Home Eye Check Up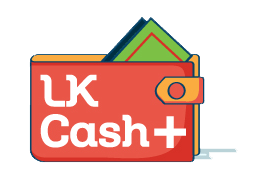 LK Cash+ is Promotional Bonus Cash credited in your Lenskart Wallet account
It is earned by the user by participating in Lenskart's promotional and marketing campaigns
It can be used without any limits of usage on Products of the Brands participating in the promotion
It is non-refundable, non-transferable, can't be transferred to a Bank Account or any other wallet
It will expire in 1 month from date of credit
It can be used only for purchasing select products on www.lenskart.com or Lenskart's Android/iOS App
Invite friends via referral code, both referrer and referee will get Rs 50 LK Cash+ (subject to order not having been cancelled within 15 days post purchase)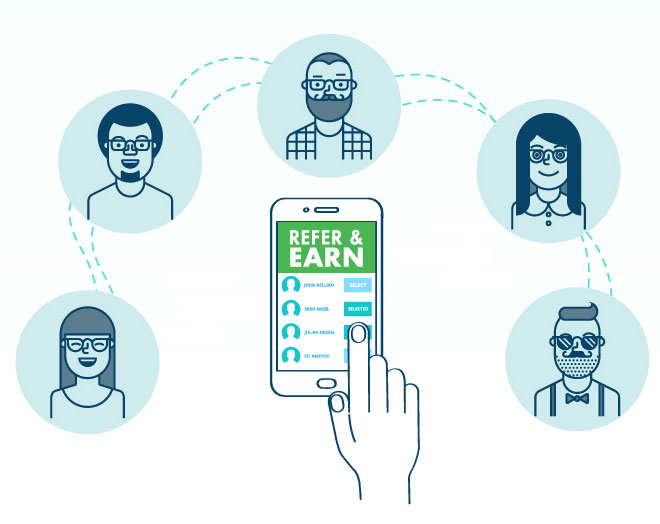 Use LK Cash+ option on the final step of order placement
1 LK Cash+ is equivalent to INR 1/-
100% LK Cash+ can be used as Part/Full Payment for orders of Eyeglasses & Sunglasses
Can be used upto 100% of cart value on Home Eye Check Up
Not applicable on Contact Lenses
Terms and conditions of
Connect & Earn
User needs to sync his contacts (in Android or IOS app) or invite/refer his friends using referral code.
For contacts synced, there is no need for the friend to put referral code at the time of sign up, the referrer & contact both will automatically get the benefit when the friend makes a purchase.
For invite via referral codes - Friend needs to install android/ios app and at first app launch, use referral code while entering mobile number in app for mobile verification
This program is only applicable if friend is a new customer for Lenskart.
Friend's contact no. will be mapped with phone number for order tracking.
Phone number used by friend while placing order should match phone number in your address book when you sync contacts.
Referrer who is eligible for Rs.50 LKCash+ needs to have account with same phone number using which he referred his friends.
Orders can be placed online or offline via stores.
Referred friend should place an order with final value of Rs.1200 or above.
Rs.50 LKCash+ will be credited to Lenskart wallet of registered referrer & friend directly, only after completion of 14 days from friend's order delivery.
Once you sync your contacts, they cannot be unsynced from Lenskart. This is a one time process.
Lenskart has authority to close and change the terms and conditions of this program at any point of time and will not be responsible for providing LKCash+ in that scenario.
LKCash+ that is credited to referrer's & friend's registered phone number, is not transferable to any Bank Account.
Referrer & Friends are not eligible for any LKCash+ in any case of return/replacement/cancelled orders.
Referrer will be eligible for LKCash+ benefit for a maximum of 5 successful orders placed by his friends (friend and phone number to be unique).
Orders placed after 1 month from referral invite date is not eligible for any kind of cashback.
Phone number used to refer friends should be same as phone number of existing Lenskart wallet account in app to get the credit.
First priority will be referral code, then contact sync.
Any order cancelled/returned will be treated as old customer only.
Lenskart can send special personalized offers to the referrer & contacts synced. For details of privacy policy, please check below.
Privacy Policy for Connect and Earn
For the purpose of the offer, any data shared with Lenskart will only be used to refer the Lenskart's services to the contacts available on the Customer's device, upon such Customer according express permission to Lenskart to access its phone directory. By way of such express permission, the Customer allows Lenskart to send referrals to contacts on such Customer's phonebook for usage of Lenskart app. Customer agrees that Lenskart, in accordance with the Privacy Policy, may collect and use technical data such as its IP address, device ID, usage data and related information, including but not limited to technical information about the mobile device, system and application software, and peripherals, that is gathered periodically to facilitate the provision of software updates, product support and other services to the Customer related to the Lenskart App. Customer further agrees and guarantees that, on its acceptance to participate in the offer, it has expressly consented to Lenskart to collect, use and share certain information regarding the contacts contained in Customer device's phone book ("Contact Information") with other users in accordance with the Privacy Policy in order to provide the benefits of the offer. Customer expressly acknowledge and agree that in order to avail the offer and to enable Lenskart to provide the benefits thereunder, Lenskart may periodically access the Contact Information to find and keep track of mobile phone numbers and other information of other users of the offer. By allowing Contact Information to be collected, customer give Lenskart a right to use that Contact Information and guarantees that it has any and all permissions required to share such Contact Information with Lenskart. Customer retains the right to opt-out to prevent the sharing of Contact Information at any time.
Upon Customer's consent, the Customer's Contact Information shall be synced with Lenskart's mobile application. Post such sync, the Customer would be able to view its contact list on the Lenskart App- whether such contacts are 'existing registered Lenskart Customers' or not. In case any of the contacts are not registered, the Customer shall have the option of inviting such contacts to use the Lenskart App.
If upon the Customer's invite, its contact installs the Lenskart App and subsequently makes a transaction on the Lenskart App, such Customer shall earn Rs. 50 LKCash+ in its account to a maximum limit of 500 LKCash+. All LKCash+ earned via this Offer shall be valid for 365 (Three Hundred Sixty) days.
Customer's right to avail the benefits under the Offer shall continue until such time that Lenskart, at its sole discretion and without the obligation of a notice, terminates the offer. The Customer may terminate these at any time by uninstalling the Lenskart App. These Terms will automatically terminate if Customer fails substantially to comply with them. Upon termination by Customer, or by Lenskart due to Customer's breach of these terms, Customer may not be entitles to any outstanding benefits of the offer.
These terms and conditions must be read in conjunction with the other terms and conditions of the usage of the Lenskart App and/or Lenskart's website available at https://www.Lenskart.com.
For any more queries please call customer support team at
+91-99998-99998
or email at
support @lenskart.com