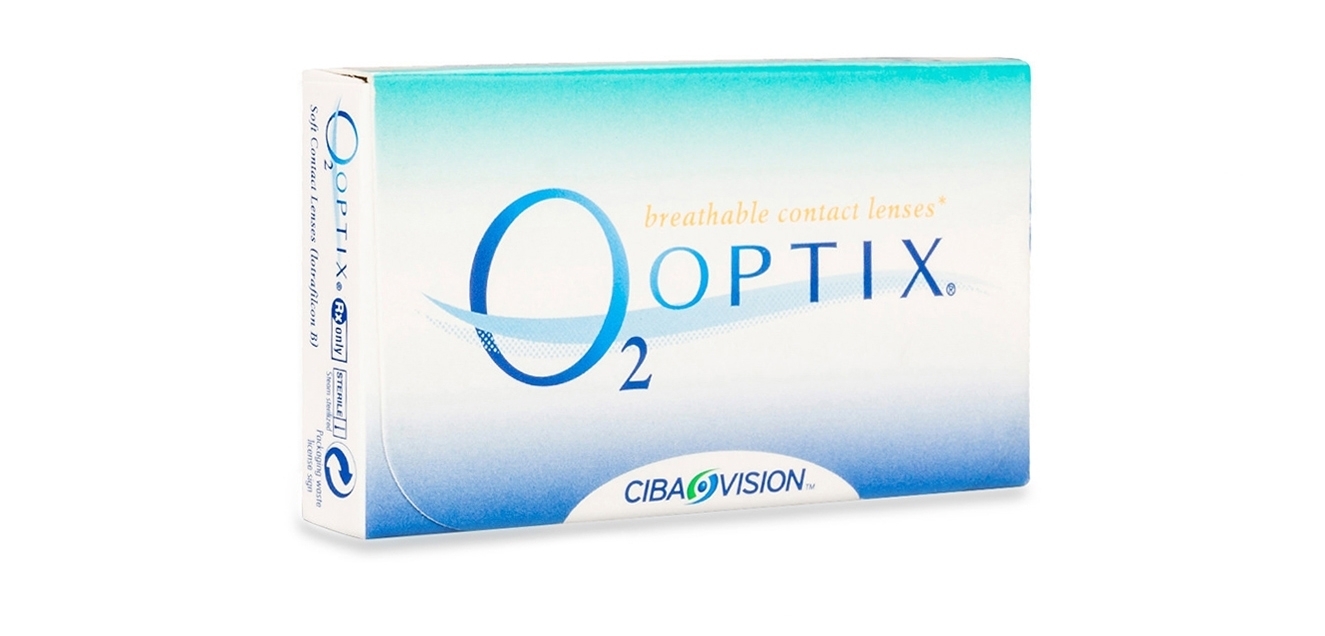 Product description
O2 Optix (6 Lens per Box) Ciba Vision
Editors Note
Ciba Vision O2 Optix (6 Lenses/box) are high precision, lathe-cut silicone hydrogen lenses with lots of oxygen on the surface make your experience immensely comfortable. The biocompatible plasma surface with advanced aspheric design optimizes lens fit, visual clarity and prevention from pathogen build-ups.
Description:
Offer great wearing experience
High water content
Extremely soft and comfortable
UV protected lenses
No redness, irritation or dryness
Good for prolonged usage
Product Features:
Brand: Alcon
Water Content: 33%
Lens Material: Lotrafilcon B
Lens Type: Monthly Disposable
Usage Duration: Monthly
Packaging: 6 Lens Box
Safety Measures & Expiry:
Care: Wash your hands with soap and water and dry them completely before touching the lenses.
Always clean your lenses gently with fresh contact lens cleaning solution.
Make sure you keep your lenses in a clean lens case to avoid eye irritation or infection.
Avoid wearing contacts overnight or while swimming.
Keep your contacts away from sharp objects, heat and pollutants.
Expiry: Minimum 1 year from the date of purchase
Technical information
technical
Product TypeCL Super Fast Moving
general
Lens MaterialLotrafilcon B
ExpiryMin. 1 year from date of purchase
REVIEWS
best for computer people
best for computer people... using it for more than a year.. i recommend for the people who works in computer for more than 8 hours
Worth the bucks.
I HAVE USED THIS PRODUCT SINCE 7 YEARS. NO PROBLEMS. SMOOTH AND CAREFREE EXPERIENCE.
Great Product
I am ordering this product for the fourth time . These contact lenses are the best in the market. No irritation. No Dryness.
OPTIX lense
The product was good
Very comfortable product
I am using it from past 3 years and had no issues till now. Ordered it from lenskart when this site was first launched and there is no problem till now with the lens. I use it daily for office in front of computer and it is comfortable. I use it for 14 - 16 hours a day with ease. Great product and awesome price form lenskart.
Repeat customer-perfect lenses
This is the 3rd time m ordering these. Good lenses. No irritation. No dryness. Competitive pricing. It doesn't get any better.
BEST lenses for my eyes
no issues! no ichting. i feel comfortable when i wear it. thank you lenskart.
Highly recommended
Extremely comfortable to wear. Maintains the water content throughout the day and keeps the eyes fresh. Highly recommended.
Very good
I am using for the last 6 months and again i have placed order in O2..its very nice and also the price..Good service.
Loved them
I am using these since a year and didnt find any issues with them yet. Worth buying!!
Awesome go for it
I used it for 12 months and I can say that this lens is perfact go for it
Most Comfortable
I have used various B&L in the past but those start to give itchy feeling after 10 - 12 hours but O2 optix is very comfortable even after 16 hours in the eyes. Amazing product.
long usage
Perfect lenses for long hours of usage & economical also. Perfect buy !!!
Best for long hours
I use for over 15 hours a day, this lens does a neat job of providing comfortable experience. Planning to use it regularly.
very comfortable
I am using these contact lenses past 3-4 years and they are really very comfortable
excellent
One of the best product at best price
Excellent for long working hours
Very comfortable lenses. Ideal For long working hours...
Fantastic lens
Very comfort and issue free...even at end 12th hour I wont feel much discomfort :)
Perfect for long hours
If you're a working professional with prolonged exposure in front of the computer, then this pair suits you best. If you can put in a extra 200 bucks, its worth it! (Y)
Good
Have been using since 2 yrs
good
product is good but lenskart did not deliver the 60 ml free lens solution offer was there when i ordered my lens
good
product is good but lenskart did not deliver the 60 ml free lens solution offer was there when i ordered my lens
fantastic
very comfortable to wear have bought it thru lens kart. the delivery was as usual very fast. the contact lenses are very good for daily use.
Good
I have been using this for last 10 months . No issues with either vision or comfort.
poor
very low water content...............even though oxygen permissibility is high....feel burning sensation ...while watching computer or mobile.....
Not so good
I would like to give a true and fair review.Of all the lenses I have used so far,I don't recommend one using the ciba vision 02 optix.The reason is simple,its difficult to wear and sometimes it feels uncomfortable while wearing for eg.burning sensation in eyes,irritation etc.I follow all the precautions like washing hands ,cleaning the lens kit,changing the solution.But it really doesnt helps. So far in my experience I suggest bausch and lomb to be better than compared to the ciba vision o2 optix. As i had used bausch and lomb last year,the are comfortable to wear and doesnt give any kind of problems.
Great Service by Lenskart / Bad Product by Alcon
I received my lenses just today kudos to the swift delivery by Lenskart.com, but, to be very honest when i was ordering these lenses i was a little skeptical about it and as luck would have it these lenses are the worst that i have tried till now. The fit is not comfortable the vision is blurry (and Yes! my power is stable) overall i regret buying this product.
Product Id : 38731
O2 Optix (6 Lens per Box) Ciba Vision
ORDER ON PHONE
(GIVE MISSED CALL:
+91 8470007367
)
CHECK DELIVERY OPTIONS
Please Enter Valid Pincode
DELIVERY OPTIONS TO CHANGE
Last Purchased 2 Hours 47 Minutes ago by Sriram from BANGALORE