BIFOCAL / PROGRESSIVE LENSES
Bifocal lenses allow you to see objects clearly both far away and up close. A bifocal lens is created with two different areas of vision correction, which are divided by a distinct line that sits horizontally across the lens. The top portion of the lens is used for distance, while the bottom portion of the lens is used for closer vision.
Like regular bifocals, Progressive lenses provide a graduated range of vision that varies from distant to near, all without a line across the lens. Progressive lenses have multiple vision distances, including intermediate, which is perfect for computer usage. This is a great option for someone who needs the strength of a bifocal but would prefer a seamless appearance on each lens.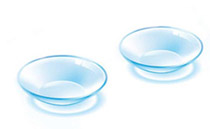 BUY CONTACT LENSES
WITH BIFOCAL POWER

BUY EYEGLASSES WITH
BIFOCAL / PROGRESSIVE LENSES