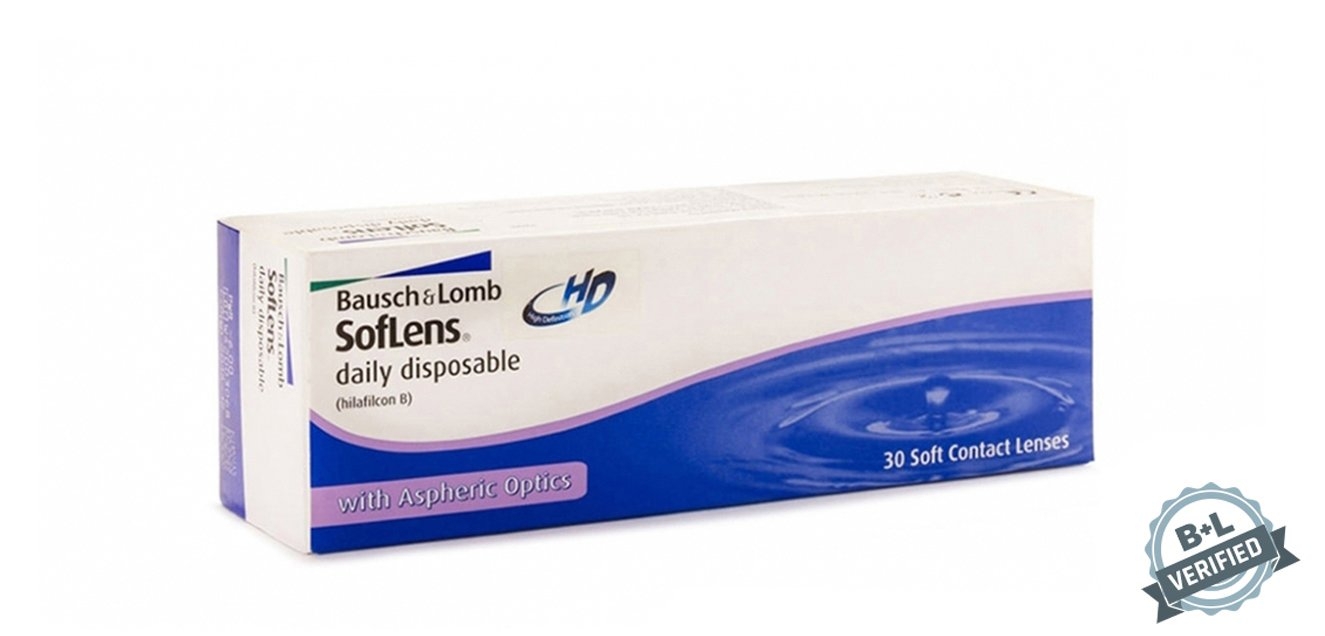 Product description
Soflens Daily Disposable (30 Lens per Box) Bausch & Lomb
Editor�â�€�™s Note
Bausch & Lomb Soflens Daily Disposable (30 Lenses/box) offer remarkable comfort throughout the day. Designed with an aspheric anterior surface, these improve vision and smoothen the interaction between lens and lid during blinking.
Description:
Offer great wearing experience
High water content
Extremely soft and comfortable
Designed with an aspheric anterior surface
No redness, irritation or dryness
Product Features:
Brand: Bausch & Lomb
Water Content: 59%
Lens Material: Hilafilcon B
Lens Type: Daily Disposable
Usage Duration: 1 Day
Packaging: 30 Lens in a box
Safety Measures & Expiry:
Care: Wash your hands with soap and water and dry them completely before touching the lenses.
Always clean your lenses gently with fresh contact lens cleaning solution.
Make sure you keep your lenses in a clean lens case to avoid eye irritation or infection.
Avoid wearing contacts overnight or while swimming.
Keep your contacts away from sharp objects, heat and pollutants.
Expiry: Minimum 1 year from the date of purchase
Technical information
technical
Product TypeCL Super Fast Moving
general
Model No.Soflens Daily Disposable
Lens MaterialHilafilcon B
ExpiryMin. 1 year from date of purchase
REVIEWS
Awesome
Got the lenses in just a day. Awesome packaging and speedy delivery. Am a convert.
Very nice
Very nice and cofortable
Excellent comfort and clear vision
I have been using these lenses for over 2 years now and have never had a problem. These top-class lenses provide the ultimate comfort in during long wear hours. The best part is that, they are daily disposables, so, there's no issues about storage and carrying extra solution. They also provide excellent vision, that'c clear & crisp, without being hazy. Highly Recommended!
good product..
comfortable.. easy to use.. delivered in 3 days... satisfied.. price less than d mkt.. will definately buy next tym..
very crisp vision
Pros: very crisp vision even in low light, no irritation while wearing, disposable, soft lenses, can be worn for prolonged hours, lenskart offers them at a cheaper price than others. Cons: delivery takes about a week time
Comfortable daily wear
Good and comfortable
I feel they are Very comfortable for daily use
I feel they are very comfortable for daily use
Nice experience
These are one of the most comfortable lenses i have ever used. you can wear it for long time without any hassle and the price is also reasonable .
best alternative to eyeglasses
These lenses are the best alternative to eyeglasses. - These are soft and very comfy - Easy to wear - Disposable so no need to clean - Much cheaper here at lenskart - No problem in wearing them for long hours - These lenses would not smudge - Same clear vision even in low light Negative points: there was a slight delay in delivery of these lenses, but then wearing them is so comfortable that everything was compensated
hassle free
I had very bad experience with eyeglasses. Someway or the other, they were either damaged or distorted. Them I bought these Bausch & Lomb lenses and from that day I never faced any problem. These lenses are extremely comfortable to wear even for prolonged hours. Now I need not to look for eyeglasses while working. Also these are very hassle free in wearing.
Good buy
Good for daily usage exceeding 10 hours as well, but after a while you'll feel it in your eyes, when that happens, it's time to throw it off. Good buy otherwise. A little difficult to wear it in the start since it doesn't stay on the tip of your fingers.
pros
Pros: very crisp vision even in low light, no irritation while wearing, disposable, soft lenses, can be worn for prolonged hours.
Product Id : 38720
Soflens Daily Disposable (30 Lens per Box) Bausch & Lomb
ORDER ON PHONE
(GIVE MISSED CALL:
+91 8470007367
)
CHECK DELIVERY OPTIONS
Please Enter Valid Pincode
DELIVERY OPTIONS TO CHANGE
Last Purchased 1 Hour 50 Minutes ago by gurpreet from Jammu