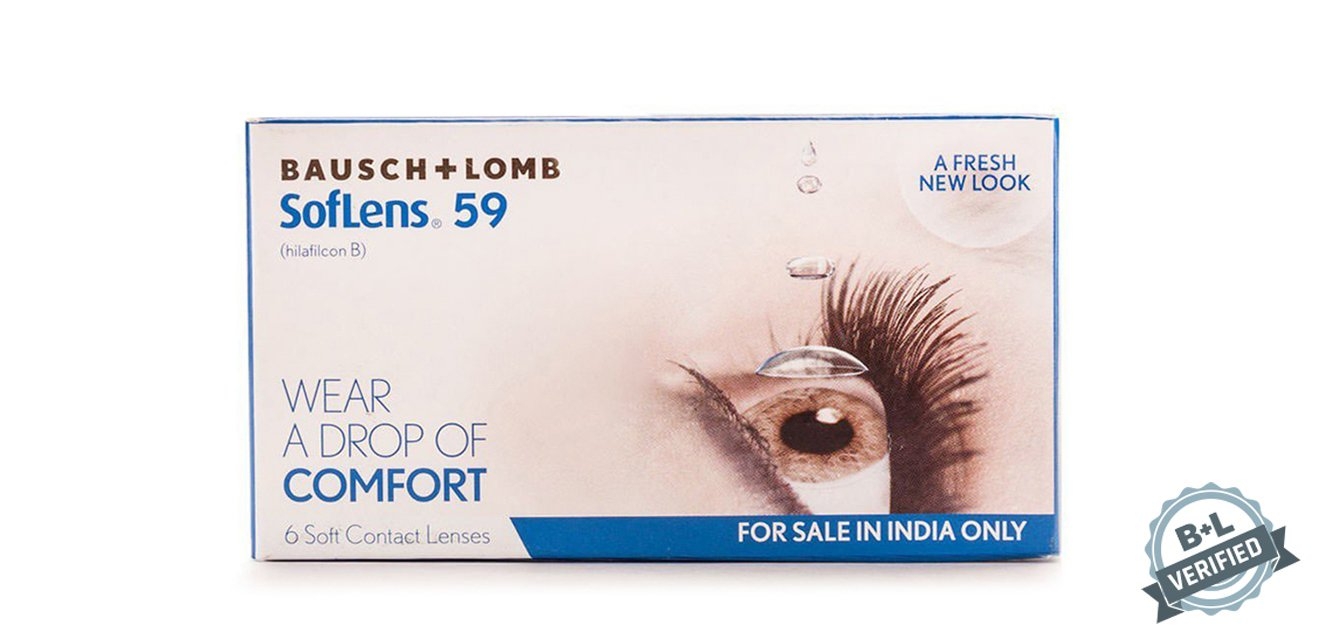 Product description
Soflens 59 (6 Lens per Box) Bausch & Lomb
Editor�â�€�™s Note
Bausch & Lomb Soflens 59 (6 Lenses/box) delivers the ultimate clarity in vision with a very comfortable experience throughout the day. These lenses are made from a protein resistant material - Hilafilcon B polymer, which leads to the unique combination of visual acuity, excellent performance and comfort.
Description:
Offer great wearing experience
High water content
Extremely soft and comfortable
UV protected lenses
No redness, irritation or dryness
Good for prolonged usage
Product Features:
Brand: Bausch & Lomb
Water Content: 59%
Lens Material: Hilafilcon B
Lens Type: Monthly Disposable
Usage Duration: Monthly
Packaging: 6 Lens Box
Safety Measures & Expiry:
Care: Wash your hands with soap and water and dry them completely before touching the lenses.
Always clean your lenses gently with fresh contact lens cleaning solution.
Make sure you keep your lenses in a clean lens case to avoid eye irritation or infection.
Avoid wearing contacts overnight or while swimming.
Keep your contacts away from sharp objects, heat and pollutants.
Expiry: Minimum 1 year from the date of purchase
Technical information
technical
Product TypeCL Super Fast Moving
general
Lens MaterialHilafilcon B
ExpiryMin. 1 year from date of purchase
REVIEWS
Good and Nice
I've been using this past the last 2-3 years the lens are perfect .it always stays in your eyes without any disturbance.
Balakrishnan pandey
2018-06-13
I have used that product....
This is one of the best product, I used to that's amazing ,great comfort, great clarity
Great value for money
Great value for money
Great lenses.. good value for money
I started using this lens after I got CVS from using yearly disposable and my doctor recommended to use monthly or daily disposable ones. Have been using these for over 3 years now without any issue or complaint. As the name says, it's very soft on the eyes (unlike the PureVision HD which is pretty thick and hard and expensive). Use it with Bausch and Lomb Bio-True lens solution. It's comfortable for wear for 9-10 hours (or maybe more I don't go beyond 10 hours). Doesn't make the eyes dry or itchy. And it doesn't burn a big hole in my pocket. I always get good deals on LensKart.
lens is the best
this the best lens ever...
EXCELLENT
I've been using this past the last 2 years the lens are perfect .it always stays in your eyes without any disturbance
good product
the lenses are really accurate and easy on the eye. just a little practice is all that is required for wearing lenses. quite useful.
Very good and comfortable
these are very good and comfortable to wear in eyes as well as does not make hole in your pocket.
Satisfied
Using product from Lenskart more than three years now. Pretty satisfied with their services n quality
Excellent
I am using lenses since last 18 years and using monthly disposables lenses from last 6 years. This Softlens from Bausch & Lomb are unbelievably low priced and most comfortable
Good offer
Delivery was on time and the product is good for the offer price. Happy in all.
Good product
very good quality product that's available on short notice. Prompt delivery by lenskart
awesome price
i got this lens for 50% off its amazing . i thought its a fake product , but its 100% genuine. thanks lenskart
GREAT PRODUCT
GREAT PRODUCT , I AM USING FOR LONG TIME
Good
Received order on time. Thanks
Superb.... Go for it people :)
Very happy with the lens. They have provided a separate lens case with the liquid too. In love with this lens at an affordable price.
Simply Awesome
I have been using this product for more than 4 years and is one of the best.
Its very nice product
Its very nice product
Very Comfortable
Was using acuve for about 2 years now and just wanted to try something new, no dissapointment at all and by far the better product.
Nice Product
I gifted this product to my sister as she was using contact lenses from last 4 years .....and she is not faceing any problem in using this new contact lenses .......she says that these lenses are more comfertable than the previous one ..........!!
Amazing
Awesome product.. I have been using it from last 4-5 years... these were my first contact lenses and have been continuing with them ever since... although they prescribed 10 hour wear a day, however, I have used them for 12-14 hours a day without losing moisture and clarity.... Further, many people are scared of infections through lenses... these are really safe and never caused any harm....worth spending.. :)
Ausum lens
This is the best lens one can get at such low price
better than rest
i bet this is better than johnson & johnson. I recently tried other lenses but had to get back to these.
Excellent
I use the lenses daily i have a side -3.5 at the beging i wear the spetes but now i using the lenes n i am happy soo much bcoz i am free with the spetes.
great
great price and fast delivery. got a complimentary lens case too
Excellent
Very comfortable
amzing pair of lenses
This product is really good for the eyes. It does not have any cons and is absolutely comfortable to wear. Team it up with eye drops such as itone as a precaution for the eyes and you are ready for any challenge..!!
More Comfortable
These lens are more comfortable for me.
nice
overall very good experience.
Fentastic job
Good package and quick delivery... keep it up...
great price
In market they are available for 995 and here they are just for 650 .. value for money :)
good exprience
nice product at an attractive price and good delivery.
briiLIANT
GOOD SERVICE... GOOD PrICE
great
Great product at amazing price. (y)
Absolutely Amazing!
I have been buying these lenses at such an expensive rate all these years until I saw these lenses here! Unbelievable discount at lenskart plus you dont need to go to a shop to place an order and then go again to collect it. As for the product, B&L is probably one of the best brands for lenses. So worth buying!
Good
Are these review genuine ???
Excellent product
Worked as expected
Good Quality
Good quality to rely
Great!
This product is my first buy in Lenskart. Cheap price, BEST quality at your doorstep.
Good & very coomfortable
Excellent service from Lenskart.
Excellent
The product offered was good for use and comfortable to wear.
The product is awesome
RECEIVED THE PRODUCT BEFORE THE DELIVERY DATE AND THAT TOO SO CHEAP I SWEAR THAT WILL NEVER BUY THE CONTACT LENSES FROM SHOP...
Superb at super lowest Price.
Superb at Super Lowest Price after discount. Thank you Lenskart.
BEST LENS AND WORTH BUYING
SOFLENS 59 ARE THE BEST AND MOST COMFORTABLE LENSES U CAN BUY. REASONABLE PRICING AND COMFORTABLE WEAR. P.S LENSKART SERVICE IS REALLY GREAT.
Excellent!!!
Very nice product. Feels comfortable in the eyes. Excellent service by Lenskart!
Geniune Product
Received Product within ETA. Good Quality Product- Bausch & lomb Lens
Efficient & economical
I am very happy to buy contact lenses from here and it proved economical than the shops from where I used to buy for 4 years. Its prompt delivery & entire experience is quite efficient.
Fast Delivery....Vry cmfrtable
got the lenskart package on the 2nd day...... the lenses are good to wear .. go for them
Product is great. No changes as compared to the products purchased instore. Unbelievable discount in products.
Product is great. No changes as compared to the products purchased instore. Unbelievable discount in products.
product was good
the product i purchased was good, n it was delivered on time :)
great value for money
i got this products at much discounted price as compared to the
The product was delivered on time and at a reasonable rate which is far more less then market rate with no compromise on quality. Greatly appreciated.
The product was delivered on time and at a reasonable rate which is far more less then market rate with no compromise on quality. Greatly appreciated. Thanks LENSKART for making my job easy.
nice one
Nice product used utmost 15 yr
very good
excellent rate than getting from shops
very good at nominal price
The product is genuine and very cheap as compared to market price.. Love buying it from lenskart.
Good service
I ordered this product and customer support was smooth.
Very comfortable
Nice and very comfortable..
Excellent product
Quality of the product is superb
Amazing
This is a reliable product. I have been using this exact model for over 8 years now. 1. These lenses do not tear easily. They are sturdier compared to most brands. 2. Easy to clean. 3. Comfort level is very high. 4. You cannot sleep in these lenses. 5. They actually work out cheaper than most other models because of quality and life of lenses.
exellent
very nice good quality
Good product and got deal
I got a deal so i got this product for around 450 rupees which is best in market. Nowhere you will get this for 450 . Besides i am regular user of this lense even before buying from lenskart. Good authentic product and delivered in 4 days. Overall very satisfactory experience.
Value for Money ..
Good product , value for money.
nice
good product and delivery
GREAT PRODUCT
GREAT PRODUCT AT GREAT PRICE, EARLIER I USED TO GET IT FOR 800 BUT NOW WITH LENSKART IT IS CHEAPER. THANKS TO LENSKART
Awsome Quality !!!
Very Good site, i have order on Saturday night and i receive on Tuesday very fast Response.
Awesome
First time i am using the contact lenses, i thought of going to J& J are B&L. i bought B&l finally it fix in my eyes clear view no irritating problems.
GOOD AND AUTHENTIC QUALITY
GOOD AND AUTHENTIC QUALITY. PROMPTLY DELIVERED!
fast deliveryand the right product
excellent pricing, received the exact product ordered and the delivery was fast.
superb
very smooth and confortable with lenskart awesom services and discount..
good product
hi i am using this product its very good and very comfortable
good product
I am using it for 2 years and these are great
Great product
I've been using Bausch and Lomb's monthly disposables for years now, and they've always been comfortable and safe to use. I'm very pleased with Lenskart's service too - great price and always delivered on time.
nice
very cheap and worthy
Very happy
I have ordered contact lenses and very happy with the service. Timely delivery, good quality products
Excellent
I got lenses at very good price. I am very satisfied and recommend LensKart to everyone. Where Titan Eye + was not giving any discount, I got 20% here.
contact lenses
its quite comfortable to use.
nice
dont wear them for more than 8 hrs at a stretch
Awesome
Thank for lens kart for pricing less than any one
very nice product in budget
love it
Attractive product
Its really a good and usable product from B&L
excellent
excellent easy to handle affordable cost
Awesome!!!!!!!!!
This product is superb. I ordered it on Saturday and received it on Monday. Crazy fast service. I also saved almost a grand here. And the packaging was really good!
awesome!!
very comfortable
great price
its a damn good price offerred
Love the product
These are very good and comfortable
good
been using comfortable
excellent
good one using more than 2 years
GREAT SERVICE
Delivered my order in 24 hours! The price is highly competitive, no one in the market can beat lenskart's online offer for contact lenses. Quite the deal, and at 1 day delivery , quite the service too!
Good
Good service and quality
Excellent
After using Bausch and lomb for initial several years, I switched to J&J for last one year. But I had to come back Bausch and lomb for the unparalleled comfort and quality of these lenses. Perfect fit, comfort, no feel of contacts inside the eye. I'll forever continue with this brand.
Good one at this price
2016-03-19
Can go for it
good product at this price.. no complaints at all.. but takes time to wear t wen compared to hd pure version.
Product
And now I called to lenskart and told about issues which I'm facing and asked for money return which they mentioned in website but they are not giving the actual price . They provide false beliefs and please I req you all not to face wad I'm facing now ..please its about eye and don't purchase from here and get into problem in future . Take care
Awesome
I have been using the product from 3 years and it is just awesome.No problems faced
It's great!!!!!
The product is great nd its been delivered in time....
higenic similar to i connect but
it is nice product very soft,it cannot be tear easily,super comfort every day long usage for 10 hours long.but little discomfort for 25-30 day day use.
Excellent Delivery
Hi, I am truly happy with the type of service that lensKart had provided. The fast and smooth service lessened my worries as I had some urgency. Thank you team .
Very comfortable lens
i tried this lens for first time and it is very comfortable. It is also very cheap compared to the market price. Thank you lenskart
very comfortable
lenses are very comfortable for 10 hours continuous usage
Satisfied
very satisfied with this product
Great Price!!
The price was very low and the website is very user friendly. Nice to shop on Lenskart!! :-)
Good Product
Bausch and Lomb has always been a good product provider. I had been using J&J Acuvue for sometime but I must admit Bausch and Lomb Soflens is way better in quality. It's doesnt lead to teary eyes even after 8-10 continuous hours of use. I would suggest first timers should definitely go for it.
Good
i have been using these lenses for past 2 years and these are very comfortable to wear. Doesn't feel like you are wearing any lenses. You can have a nap also.
Great Product
Great Product i have been using it for first time it suited me and i am comfortable with it, Great buy value for the money....
Good quality product, fast delivery!
I had a good experience with LensKart. Being a first time customer, I could not be more than happy purchasing from this website. I feel customer oriented concepts are being fully optimized here, which is one way that makes my purchase a value one. Sure thing, I am going to come and purchase again from your guys. Thank you!
good
I have already used this product and its comfortable to wear these lens
complement
people.... you got any complement like liquid and lens container?
Timely delivery
Order this product and delivery was on time. Happy with the service.
Excellent
I find these lenses extremely comfortable.. Great service and unbeatable discounts make lenskart best place to buy.
Good product @ good price
I have been using B&L products from past 10 years... Very happy with the quality of the product.. This time bought it from Lenskart at very good / competitive price... Though product was delivered after 10 days i kept getting updates on the status of the shipment which shows their commitment.. overall happy with this shopping experience...
Great One
Lenskart delivered the product quickly and packing is very good. Pricing is also cheaper than anywhere else. My wife is using this product is for last few years. Its a very good product.
Good and comfortable
Product is good and comfortable to use,Got delivery on time :)
product is good as expected
Hi, I got product as i am expected at cheapest rate from any market price available. thanks lnskrt.
Good product & service
It is a good product. Very happy with lenskart service delivery.
Amazing product at a decent price..!!
Hi All, I am writing this after trying Bausch & Lomb and Johnson & Johnson, Honestly B&L lenses are more comfortable than J&J which come at the same price. You can wear them without any problem for 8-10 hours. Easy to handle and use. The Prices at Lenskart are just amazing. You can never get a better deal than in here..!! Keep your eyes Healthy. Wish u all a Healthy living..!!
Peoduct delivery
The product has been delivered within 3 days. So much impressed.
Too good for regular usage and is user compliant.
The product is best for regular lens users
Good quality
quality is good but very thin.
cheap and classy
it easy to access an quite good in clarity
No stock
I have been checking for -3.50 lens for sometime now..its not available with Lenskart
Good Product @ Great Price!!!!
Awesome.. Good Quality
Product Id : 38723
Soflens 59 (6 Lens per Box) Bausch & Lomb
ORDER ON PHONE
(GIVE MISSED CALL:
+91 8470007367
)
CHECK DELIVERY OPTIONS
Please Enter Valid Pincode
DELIVERY OPTIONS TO CHANGE
Last Purchased 1 Hour 22 Minutes ago by Abhav Ventures from Bengaluru