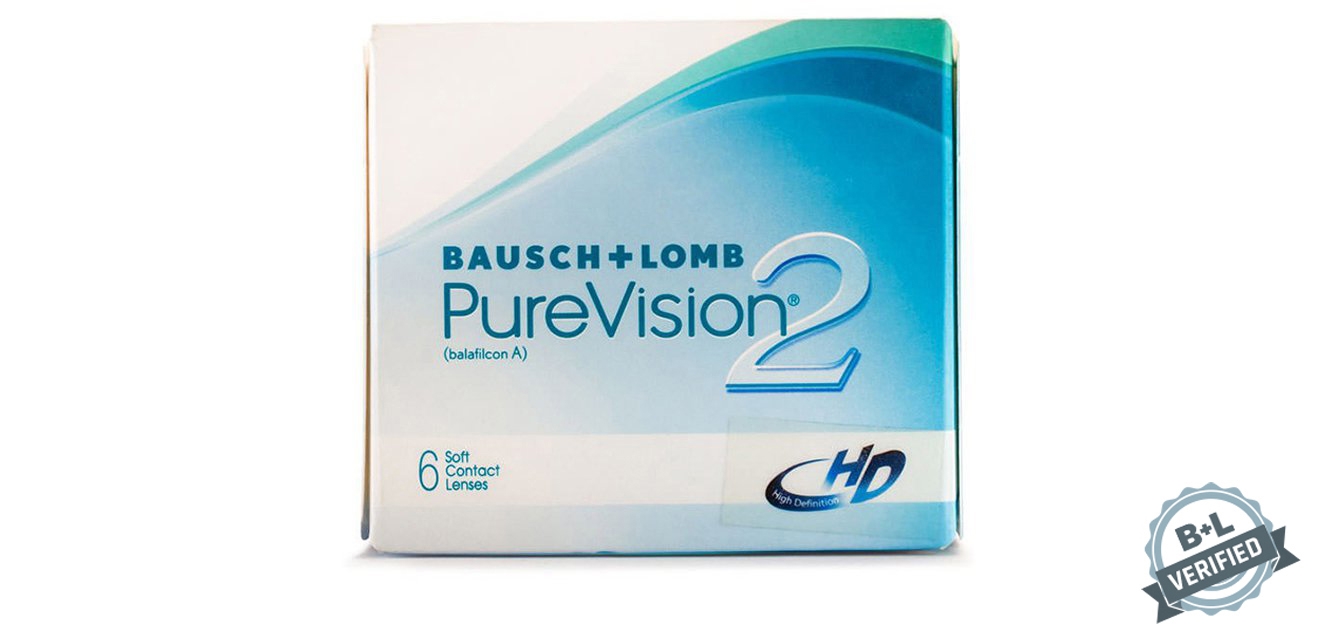 Product description
Bausch & Lomb PureVision2 HD contact lenses (6 Lens per Box)
Editor�â�€�™s Note
Bausch & Lomb PureVision 2 HD contact lenses (6 Lenses/Box) are designed to reduce halos and glare and deliver a clear, crisp vision. Additionally, these offer design advances for outstanding comfort and breath-ability.
Description:
Offer great wearing experience
High water content
Extremely soft and comfortable
No redness, irritation or dryness
Good for prolonged usage
Product Features:
Brand: Bausch & Lomb
Water Content: 36%
Visibility Tint: Light Blue
Lens Material: Balafilcon A (Silicone Hydrogel)
Lens Type: Monthly Disposable
Usage Duration: Monthly
Packaging: 6 Lens Box
Safety Measures & Expiry:
Care: Wash your hands with soap and water and dry them completely before touching the lenses.
Always clean your lenses gently with fresh contact lens cleaning solution.
Make sure you keep your lenses in a clean lens case to avoid eye irritation or infection.
Avoid wearing contacts overnight or while swimming.
Keep your contacts away from sharp objects, heat and pollutants.
Expiry: Minimum 1 year from the date of purchase
Technical information
technical
Product TypeCL Super Fast Moving
general
Lens MaterialBalafilcon A ( Silicone Hydrogel )
ExpiryMin. 1 year from date of purchase
REVIEWS
Best buy
I wearing this brand since 10 years. The most comfortable and most reliable. The best I would say! I wear it at a stretch of max 14-15 hours without any discomfort.
excellent
the best lenses in silicon hydrogel lenses
very Comfortable to wear
I am waering this lenses from past 5 years,and no complains till now
Good quality, fast delivery
Thanks lenskart for delivering the product before expected date.
Happy
Good so far , I'm happy
awesome lens awesome lenskart
its just great. I am using the lens and as it professional I have to wear for more than 15 hrs per day. but its feel nothing u r wearing in ur eyes. simply gr8 and so soft. lenskart thankx for the product and u make it so easy to reach. again I m going to buy this product must recommendable. awesome product,
Best in Class Product and Best in class service by LensKart
Best in Class Product and Best in class service by LensKart
GOOD FOR LONG DURATION USAGE
ITS BEST OPTION TO USE LENSES AN ENTIRE OR MORE
awesome
Got the product for 1053 rs...delivered in a day...lenses feel very soft...no irritation...no complain...must buy.. :)
Feel fantastic
I got my lenses delivered in just 2 days. 5 Start for the delivery. Now talking about the product, it makes you feel wow. It feels like nothing is in your eyes, no itching, no dryness...wear these lenses and simply forget that you are wearing lenses.
5 star
amazing comfort and fast delivery very good service from lenskart
Superb
Very comfortable and lasts long
awesome experience
i have bought this product .its very comfortable to wear.It has very flexible to wear by 24 hours except than sleeping.i am very glad to wear.THANKS TO LENSKART WAS GIVEN GREAT SUPPORT TO GIVE SUGGESTION TO BUY PRODUCTS.
Co
I have been using Pure Vision HD lenses for 3 years now. No irritation, redness, or blur vision while wearing them. Very good for long hours wear. Highly recommended.
Really very good contact lens
I m using continue from last 1 year. Quality of this is very good. I wear the contact lens 15 hours per day without any irritation. Very good product in reasonable price.*****
Nice
great product at great price :)
The best lenses out there!
I have tried almost 5 or 6 different brands. Purevision 2 provides excellent comfort and vision. I use them all day long. No irritation. Eventhough the endurance of a lens is 1 month. I have used a single lens for more than 10 months after which it tore due to my carelessness. I would recommend this to all. No eye Problems!! Crisp and Clear vision!!!!!
hassle free ,comfortable
irritataion free, very soothing touch, good to keep your eyes healthy, since i buy monthly disposable so no chance for any deposit on lense.
Good job lenskart
Dear Lenskart, I am really happy about this product and delivery. nice product. :-)
best contact lenses
So far a best product at very less rate as per sold in market. I got a discount of about 35% on 3700. The product is so smooth that you do not realize you are wearing any contact lenses. Can wear lenses about 8-9 hours a day.
Best Price Ever in the market
Hi Folks, Trust me this is the best place for the Genuine products. I have ordered for a pair of Contact lenses to clarify whether the website is providing the Genuine products or not since no one in the market is providing the lenses lesser than this. Lens kart you are Rocking and Please continue the same and rock on and Surprise us with new offers.
good product
Its good product and original one.
Excellent
I have been using lenses for 4 years and this is the best one. Excellent service by lenskart.
great product delivered within a day
Dear lenskart, first of all thanks for your services. i am a ragular customer of yours using products since a year. i am very happy with the quality and delivery promise. I ordered the contact lenses on 30th April and got it delivered by next day, like a mirical for me. i am using power of -8.5, which is tough enough to get from outside. earlier, i have to pay advance to shopkeepers to get my product and wait for 2 weeks and lot of followups issue. thanks again for such a wonderful experience Highly recommened. Regards Rohit
Great Product to use
This product is really good and very easy on eyes. Very comfortable in wearing , and my eyes really feel good and refreshed with nice vision. dosen't dry my eyes and keep it moist. Good product to buy. I recommend to all buyes to buy this
Lenskart - Most awesome ecommerce portal in India
I order product on Friday evening...Surprisingly i got it next day 11 am...without any extra charges....Awesome packing...and most important gr8 discount and nice customer care. @Lenskart Folks...you have raised the bar in industry, dont take it down. Thanks
Amazing!!
Amazing lenses!!! Dont even feel like im wearing em!! And great service from lenskart! Way to go!
VERY GOOD AND QUICK DELIVERY..!!!!
OMG that was my reaction when these pair of lenses got delivered these contacts are the best and thank you lenskart for the quick delivery QUCIK DELIVERY BEST PRICE AND AWESOME PRODUCT ...:D
Excellent delivery
Dear Lenskart team , this is huge thank you for the pre-time delivery of my order. I was promised delivery by Sat ( expiated delivery ) & I got it by Friday evening. Never imagined that would happen....5 stars for the delivery.Regards to the product I have been using it for couple of years - no doubt excellent product & good for regular use.
Superb Lenses
I am using this PureVision 2 HD lens for 1.5 years now. And these are really really good. Absolutely no irritation or discomfort in eyes. Best point for this lens is they are amazingly thin, so you will never feel that you are wearing anything! Just like normal. This is made of silicone hydrogel which is awesome material for lens. Earlier I used to wear a thick quality lens. So when I switched to this first time, I use to have problems wearing lens. As this is amazingly thin it just use to shrink and fold on my finger. But once you are accustomed to it, this will give you good comfort. I even wear sometimes wear this for 10-11 hours continuously without irritation. But just don't wear more than 12-14 hours continuously as after 12 hours or so eyes starts feels pain, specially it happens if eyes are open towards open air mixed with dust of road. On the contrary, n a closed room I have seen even after 14 hours there is very little discomfort. Though lens are always good use for max 10 hours, but I explained my experience what if on sudden situation you are to wear for more than what is prescribed.
Good Lenses
Nice pair of lenses. Very comfortable wearing them. Doesn't feel the presence, quite thin and natural. Made a mistake of not ordering through Lenskart. Paid whole 7500 for a year, whereas quite cheaper here.
Good genuine product
Appreciate Lenskart delivery service for providing good quality genuine product at very attractive price.
I'm highly pleased!
Thank you Lenskart for coming up with this service. It helps us save time and get the best products at discounted prices. Thanks a ton! The product I bought is very good and comfortable for my eyes. I would give it a 5 star!!
Best Lense , Best price
This is really a Best contact lense by B n L .. Must go for this one .. Soft and Long time usage
Good Quality Product
Overall a good quality product with a competitive price
Excellent
Contact lenses are not like any other apparels that we ordering from online stores.I got my lens delivered within seven days and lenskart literally saved me from running out of this essential!! so i want to say awesome lenskart !!
Comfortable
Best for daily use for those having eye dryness. This low water content lens are best for dry eyes. I used many brands, but this is the best of all I tried. I normally use around 10hrs - 5days a week - monthly disposable. Lenskart is best for timely delivery and best price in India.
awesome
Bought this lens for my wife and she is loving it, after a break of 5 years she wanted to try on lens , what an awesome product to start with . delighted with product and service
good
amazing product & great service
Excellent
I have been using contact lenses from different vendors for last 7 years but this one beats all of them. Even if I wear these lenses for upto 12 hours(not advised by doctors but done due to work requirements), I do not feel the slightest discomfort.
Brilliant!
Been using it for a year now. Not a single issue so far. These lenses work best with Bausch+Lomb Bio True lens solution. No doubt, this is the best one out there! Go for it!
Comfortable for long wear
I tried this lens after using Toric lens and Ciba. I feel there is very good difference in this Low water content lens. If you have dry eyes and gets irritation after wearing for more than 8 Hrs, then try this lens which has low water content. For dry eyes, if you use lens with high water content you will get more dryness. Try this product which is very good for long wear, more than 10 hrs.
Best in Class
This is the only lenses I have ever used and it has been recommended to me by my eye doctor. It is the best in class and I guess these is no other lenses in the market better than this. Very comfortable, if you haven't tried, just buy it and you will never regret the decision or ever look back. I promise. That's from my own experience.
Awesome Product at attractive Price.
Bought this product under GOSF offer. It costed me around 1000 bucks. Delivery was quite smooth. Thank you Lenskart!!!
Excellent
Excellent Product by Bausch+Lomb !!! Great Experience No irritation Can wear for long hours! Used Best with Bio-True Lotion! Strongly recommended.
GOOD QUALITY SERVICE
GOOD QUALITY SERVICE
Excellent..
I am using this hd lens lens first time.It is an excellent lens.You can wear it for almost 20 hrs.Even you can sleep for almost 3 hours.It is a very soft and very comfortable..go for it..
delivered within time. and less than 2 years of expired date also
Delivered within time and less than 2 years of expired date also
very good product
the lens can be used for full day not at all causing any issue with the eye its really cool the offer is also too good
Truly HD
Amazing clarity and true HD in all senses.. A must recommend for all Lens wearers. Kudos to Lenskart for making it available at such a discounted price. No where u get these lenses at this price. Good Job Lenskart !!!
Great clarity & comfort
The lenses are far superior and have unparalleled clarity. One could use it for 16 to 20 hours at a stretch without eye irritation which is a big grace.
Fast Delivery
the lenses are good. but i was really happy because i got them within 24 hours.
Awesome
its just like eye.. I don't feel irritation to wear this
Excellent Product
Very Comforatable to use. I switched to PureVision 2 HD for the past one year, and they are extremely easy to use and the vision they provide is superb. Thank you for an Excellent product.
Awesome
They are easy to use and very comfortable. After sleep or when eyes get dry there might be a need to wash the face or clean the lenses. But it has helped me a lot during travel( i travel a lot) coz v can sleep with them on.
Best Lenses
These are the best lenses !!!!!
Speedy delivery
I received my lenses on Monday, having ordered them late on Saturday! The packaging is quite neat, and got a great discount on them, so ordered 4 packs. Looking forward to similar experience with my other orders with LK.
Best so far
I have used many brands so far and this is the best I have used yet. Amazing comfort. You will never feel you are wearing lens. Highly recommended.
comfort
very comfartable to wear
good
good for long working hours
Good for long working hours
Good for long working hours
Nice Product
These lenses are really good. I am using it since last 3 years. Also, Lenskart delivery is excellent!
Good
The product is very good and excellent speed in delivery!! Keep it up!!!
Excellent product
I was buying lenses from other website, but in my first purchase with LENSKART, I got good quality product at cheaper price and reasonable delivery period. My best wishes to Team Lenskart !
Good
The product as always good and even the service of LK (y)
Fine service
The product was delivered on-time. I had ordered for a year's supply, and even got the exp date according to my request. Satisfied with the service. Would like to continue shopping with lenskart.
Good service and timely delivery
I ordered this B&L lens for the second time thru lenkart...the product and timeliness was good. Only one of the lens carton got slightly damaged on the outer side during shipping but fortunately there was no loss to the lenses. Please add more padding to the packaging, rest is great. Will prefer to order again for sure.
Purevision 2 Lens Review
It was wonderful. The are available at much lower prices than the usual market ones. Actually I kind off paid only 50% of the market price. Delivery was also great through GOJAVAS. I wish Lenskart all the best for the upcoming future and hope to see new features with it.
Contact Lens
Best price and genuine product.
Good Product
Overall a good product but I would rare Accuvue better than this. The quality of lens holder should be improved by Lenskart. Lenskart delivery is exceptional.
About product & lenskart
Hi i have ordered contact lens Bousch & lomb i have received this product in 2 days superb packing superb discoun! i hope the same will continue in future...
received on time and good prodcut
received on time and good required prodcut
good
The delivery and tracking of delivery is very good in nature. I liked and loved the way u handle the customers in it. But i faced the difficulty in tracking my order almost i had waited for a week to track my order in the lenskart website. the product which u send to me is satisfactory but the manufacturing date in the box is around in the month of december 13 that is the one thing i am not satisfactory with u
no difference
i did not felt any difference ,same as the earlier lens i was using .
no difference
i did not felt any difference ,same as the earlier lens i was using .
good but not great
its ok..just like any normal lens. But not great as it is being projected. In fact on the third day after wearing the lenses I started getting head aches and foreign body sensations..I think buying in lenskart is just a gamble. if its good your lucky..if not then you just have to forget it..and Im surprised all my discomfort started after 3 days well after the timeline for returning the items...I am a regular user of contacts for the past 15 years and they are just like any usual lenses. Not worth the double the money. Given an option I wouldnt buy it again.
Not so Good
I have been using this lens for over 6months. Packaging came in a quite good form ,from lenskart, not to mention.The first three months went quite well,I didn't found any problems.But recently I found that one of my lens got torn off, a hole was there in the mid-section.Also the lenses are sometimes difficult to clean even with basuch & lomb renu. You have to clean it again and again,dust particles don't seem to go away even after you clean your hands quite nicely and try to wear.
Product Id : 38749
Bausch & Lomb PureVision2 HD contact lenses (6 Lens per Box)
ORDER ON PHONE
(GIVE MISSED CALL:
+91 8470007367
)
CHECK DELIVERY OPTIONS
Please Enter Valid Pincode
DELIVERY OPTIONS TO CHANGE
Last Purchased 1 Hour 22 Minutes ago by Abhav Ventures from Bengaluru