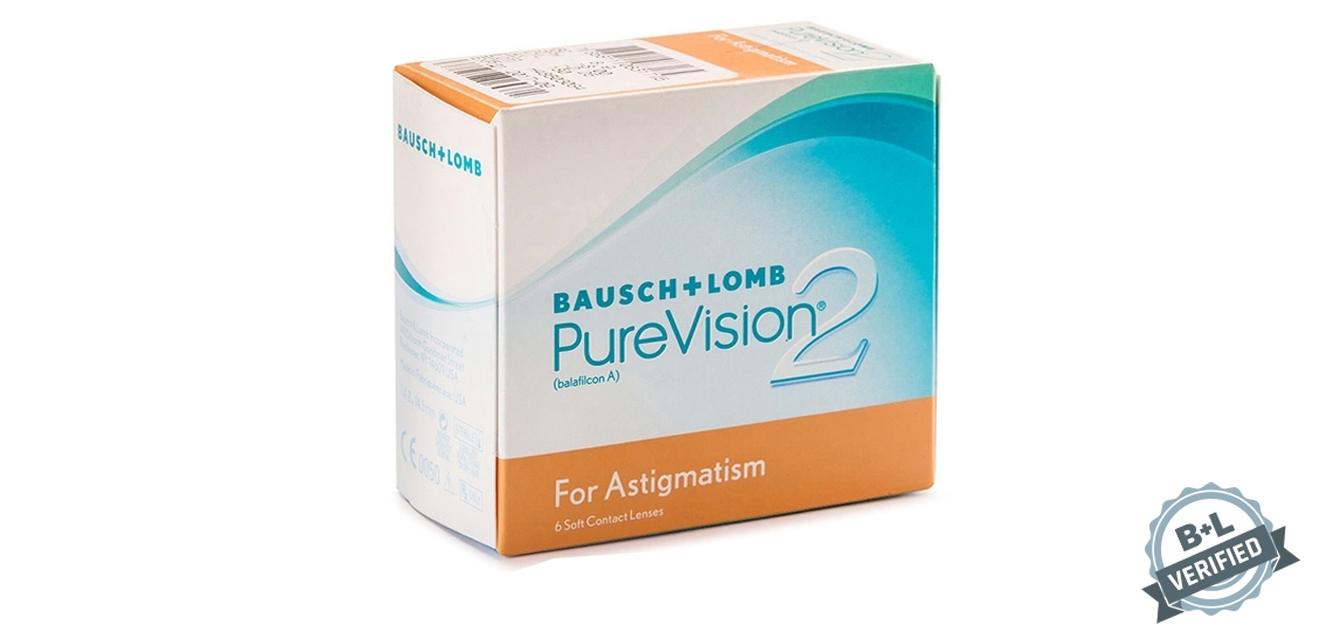 Product description
Bausch & Lomb Purevision 2 Astigmatism (6 Lens per Box)
Editor's Note
Bausch & Lomb Purevision 2 Astigmatism are uniquely designed to meet the special vision correction needs of people with astigmatism. This lens is designed to be worn as an extended wear lens for up to 30 days of continuous wear.
Description:
Offer great wearing experience
Contact Lens-Cylindrical
Extremely soft and comfortable
No redness, irritation or dryness
Product Features:
Brand: Bausch & Lomb
Lens Material: Balafilcon A
Lens Type: Monthly Disposable
Usage Duration: 1 month
Packaging: 6 lens per box
Safety Measures & Expiry:
Care: Wash your hands with soap and water and dry them completely before touching the lenses.
Always clean your lenses gently with fresh contact lens cleaning solution.
Make sure you keep your lenses in a clean lens case to avoid eye irritation or infection.
Avoid wearing contacts overnight or while swimming.
Keep your contacts away from sharp objects, heat and pollutants.
Expiry: Minimum 1 year from the date of purchase
Technical information
Model No.

Purevision 2 Astigmatism
Lens Material

Balafilcon A
Expiry

Min. 1 year from date of purchase
REVIEWS
Extremely satisfied
These are by far the most comfortable pair of lenses I have used. They can be worn for long hours unlike lenses of other brands which start irritating the eye after a few hours. I would especially recommend it to people who have a cylindrical power. Also, I'm extremely impressed by Lenskart's prompt delivery services.
Best Ive used till now
I've tried almost all Bausch and lomb contact lenses including daily wear, by far these are the best. They don't tear easily and are not too thick.
Just Perfect!
I had bought sunglasses on Lenskart previously and I was completely satisfied with the quality of the product and service. So, this time I ordered Contact lenses. Lenskart just blew me away this time! Lenses were delivered to my door step, earlier than the expected date and with exact lens power. From now on wards Lenskart is my one stop destination for my spectacles, lens related requirements, thanks guys!
Best Lenses for Astigmatism
I have tried almost 5 or 6 different brands. Purevision 2 provides excellent comfort and vision. I use them all day long. No irritation. Eventhough the endurance of a lens is 1 month. I have used a single lens for more than 10 months after which it tore due to my carelessness. I would recommend this to all. No eye Problems!! Crisp and Clear visiom!!!!! The only CON is that it is expensive than the normal purevison2 lenses Purevison2 Toric lenses for astigmatism is expensive it seems
Happy to use this
I have been using this lens for last 6months. It might take 2-3 days to get comfortable to this if you have been using some other contact lens. But this is really good for long hours and specially if your job requires you to use laptop. I often used to feel dry and need to put solution in my eye. but with this lens i feel absolutely comfortable all time. it makes me forget that i am wearing lens.
B&L Purevision 2 for Astigmatism
The contact lens experience has been amazing. There is no irritation, no dryness. In fact you don't feel that you are wearing any lenses. I have used specs also, but due to astigmatism the viewing at corners was very bad. But no issues with the contact lens. I will highly recommend these for persons having spherical numbers.
so cool
i have ordered and received in short time period with nice branded quality. feel much comfort on wear this lens. rocking service lenskart
nice
very nice product, i am using this product for 10+ years, and i am satisfied
Comfort and Clarity
Hi have been Bausch & Lomb user forever and this particular one is excellent choice for your daily wear at work or long dayout without dryness and discomfort. Totally recommended it !
best lens
earlier i used spects..but they make marks on my nose thats the reason i had opted for contact lens but very much satisfied with purevision2 happy customer of purevision2
satisfied a lot by the delivery time and quality
I had ordered for B & L CONTACT LENS for PV-2 and got the product in just 4 working days.And the product is also too good for people who want to wear lens for 10-12 hrs a day with astigmatism.The product does not dry out till the end of the day.
too good
best lense i hav ever used. o ly thing is u need to pay more
too good
best lense i hav ever used. o ly thing is u need to pay more
Bausch & Lomb Purevision 2 Astigmatism (6 Lens per Box)
ORDER ON PHONE
(GIVE MISSED CALL:
+91 8470007367
)
CHECK DELIVERY OPTIONS
Please Enter Valid Pincode
DELIVERY OPTIONS TO
CHANGE
Last Purchased 11 Hours 29 Minutes ago by Pradeep from Mumbai