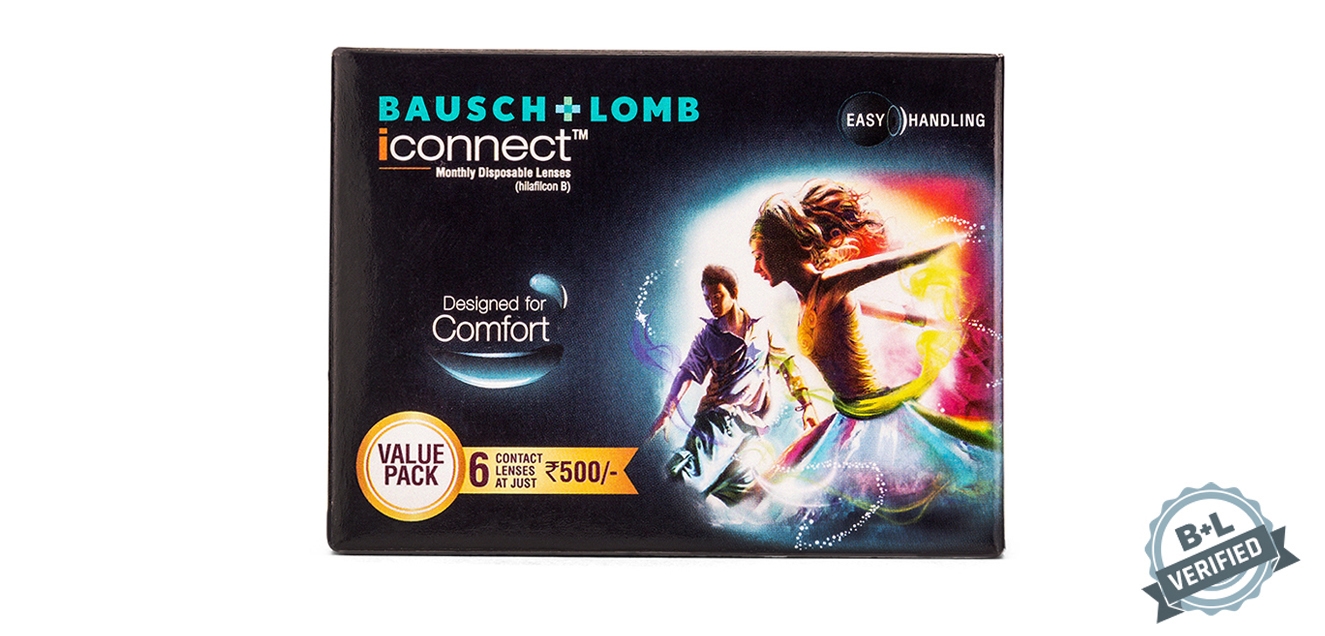 Product description
iConnect (6 Lens Box) Bausch & Lomb
Editor�â�€�™s Note
Bausch & Lomb iConnect (6 Lens Box) is a must have if you are looking for easy to handle and high on quality contact lenses. The brand offers the triple benefits of hygeine, value and comfort for your eyes.
Description:
Offer great wearing experience
High water content
Extremely soft and comfortable
No redness, irritation or dryness
Good for prolonged usage
Product Features:
Brand: Bausch & Lomb
Water Content: 59%
Lens Material: Hilafilcon B
Lens Type: Monthly Disposable
Usage Duration: Monthly
Packaging: 6 Lens Box
Safety Measures & Expiry:
Care: Wash your hands with soap and water and dry them completely before touching the lenses.
Always clean your lenses gently with fresh contact lens cleaning solution.
Make sure you keep your lenses in a clean lens case to avoid eye irritation or infection.
Avoid wearing contacts overnight or while swimming.
Keep your contacts away from sharp objects, heat and pollutants.
Expiry: Minimum 1 year from the date of purchase
Technical information
technical
Product TypeCL Super Fast Moving
general
Model No.I Connect 6 Lens
Lens MaterialHilafilcon B
ExpiryMin. 1 year from date of purchase
REVIEWS
Good
Easy to handle and better for sensitive eyes.
More Comfortable
very nice product. I just Loved it.
cost effective,most durable
i have been using this product for 1 1/2years,no issues,no infection problem,more water content.easy to wear.i love this product.
Awsum
Superb experience with product and purchase. fast delivery, and efficient product.
One of the most comfortable lenses
I have been using it for the last 2+ years now and it is one of the best, extremely comfortable, can wear it for 10-14 hours, without any issues. Just what I needed. It has one of the best 59% water content and is soothing to eyes. Once you put it on, you just forget it.
Perfect set of lenses
I sort of like this product. My first lenses and am quite fond of it. Monthly disposable which is good, pocket friendly, easy on the eyes. Can wear for long hours (10-12 hours) No complaints as such. Even washed my eyes with the lens on. :P Seems no trouble in that. Good Product. Must try.
Product is good
Product is good
first time lenses
loved it
good but some issues
product is good, comfortable to wear. however, a couple of times the new lens that i opened was uncomfortable , experienced a stinging sensation as soon as i placed it on my eye. upon inspection the lens was clean, it had something to do with the material i guess. i had to open another new pack instead. this has happened twice so far. one or two in a box of 6 are like that sometimes.
Product Id : 113708
iConnect (6 Lens Box) Bausch & Lomb
ORDER ON PHONE
(GIVE MISSED CALL:
+91 8470007367
)
CHECK DELIVERY OPTIONS
Please Enter Valid Pincode
DELIVERY OPTIONS TO CHANGE
Last Purchased 7 Hours 14 Minutes ago by Sashikala from Chennai