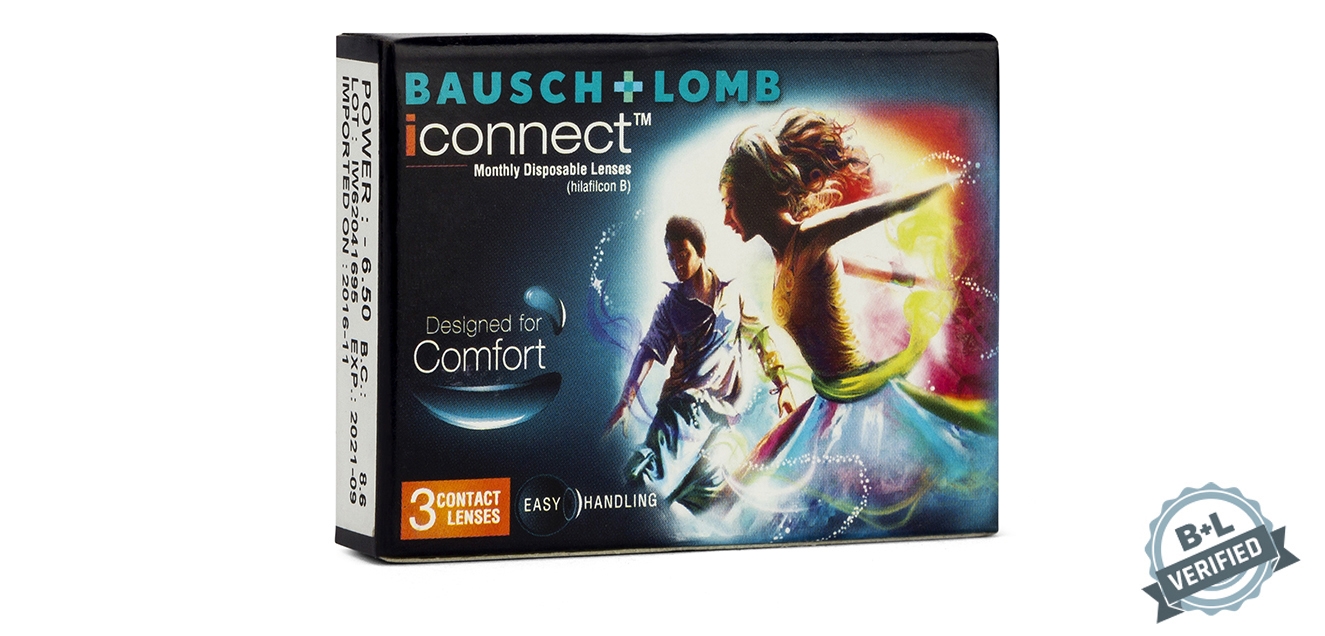 Product description
Bausch & Lomb iConnect (3 Lens/Box)
Editor�â�€�™s Note
Bausch & Lomb iConnect (3 Lens/Box) are comfortable to wear and offer easy handling. It offers first fit guarantee, are hygenic and reliable in the long run.
Description:
Offer great wearing experience
High water content
Extremely soft and comfortable
No redness, irritation or dryness
Good for prolonged usage
Product Features:
Brand: Bausch & Lomb
Water Content: 59%
Lens Material: Hilafilcon B
Lens Type: Monthly Disposable
Usage Duration: Monthly
Packaging: 3 Lens Box
Safety Measures & Expiry:
Care: Wash your hands with soap and water and dry them completely before touching the lenses.
Always clean your lenses gently with fresh contact lens cleaning solution.
Make sure you keep your lenses in a clean lens case to avoid eye irritation or infection.
Avoid wearing contacts overnight or while swimming.
Keep your contacts away from sharp objects, heat and pollutants.
Expiry: Minimum 1 year from the date of purchase
Technical information
technical
Product TypeCL Super Fast Moving
general
Lens MaterialHilafilcon B
ExpiryMin. 1 year from date of purchase
REVIEWS
Best Contact Lenses
I have been using these contacts for more than 4 years and they are awesome. Best contact lenses at best price. You will not feel anything in your eyes once u wear it..
Smooth, no fuss, one-stop shopping
I have been buying contact lenses from lenskart for more than two years now and it has always been hassle-free and smooth.
Awesome product at unbelievable price
..
Value for Money
I have been using iConnect for long time and it's best in the price range it comes. I tried first time to buy lenses from lenskart and i am surprised(in a positive way) by the service they provide and the price at which they are offering the product. I Got delivered the product(Two Box) in two days and saved 150/- rs on two box buy purchasing it from lenskart rather then the offline store. Great work Lenskart... Happy Customer :)
Loved it!
Have been using it for past 6 months, on a daily basis. Average wear time 10-12 hours. Sometimes been to 18 hours with lens on. Practically forgettable that you're even wearing anything. I often fall asleep with these on ( although a bad habit) but no problem ever occurred. A perfect value for money and utility. I'm going to use it for a very long time now. Although a word of advise, do replace them monthly, I had difficult experience when I forgot to replace them. for more than 2 weeks over due.
very good product
this is one of bausch and lomb best connect lens i have use .i'm using it for last 1 year and it is value for money.i use it daily nearly 6 to 8 hours there is no problems with that.
Like the product! Nice moist thru the day
Remains moist through the day, even for more than 8 hours. Good one!
Antor Chowdhury
2017-02-23
Love it!
Got my delivery in only 2 days! Yet to try it!
suraj khuraijam
2017-02-22
Good Shopping experience
I am a Lenskart customer for more than 4 years and they have been very professional in their business operation. One instance for eg Order ID: 1206151507 was delayed due to courier problems and was stuck on kolkata for a very long time and send back to Seller.In any case this would have been REFUND and PLACE order again waiting for extra days to get my LENSES but a Calm Executive contacted me about the foul up and i requested to her to send the order again by a particular courier without going through the process of REFUND and REORDER process.she did just that.That's coordination and competent customer service. thnxs.
Very Comfortable
Hard to believe you can get Bausch & Lomb at this price. They're one of the best lenses you can get.
Good and reasonable
Good and reasonable!! Kudos!
Comfort at Throw-away price
Unbelievable comfort at an awesome price!
Nice and comfortable
Already I used some other brand but know I am using i connect it is very comfortable .
best product
very good product in low price
its a great prouct and legit to buy
awesome product condition and free lenscase too for better longivity of Contact lens. Delivery was in good manner. enquiry then delivery happened . If phone not recieved warning message flashed through messages to customer by delivery system of lenskart. happy to buy contact lens and spectacles from online market with guarantee and with reasonable price. Would suggest people to go for Lenskart anytime for variety of choices and designs. Loving it.
Smooth. Easy. Comfy.
The best Ive used so far. No irritation. Smooth. Easy. COmfortable.
Good
I was wondering whether it would fit or not. But it turned out to be more than perfect. Was too good wearing it. Am reordering for an similar piece :)
Awesome Product
I loved it.
Akshay Bhalerao
2016-03-27
Excellant product. Delivered on time
Excellant product. Delivered on time
Extraordinary
Hard to believe you can get B&L at this price. They're one of the best lenses you can get. Absolute value of money product, with absolutely no compromise in quality. I've used way more expensive lenses in the past, and trust me, there's really no difference between these and the ones that cost thousands of bucks. Extremely comfortable, and can be used for 12 hours a day with zero problems and zero irritation. And delivery by lenskart was CRAZY FAST. +1 to B&L. +1 to lenskart for this unbelievable price and super fast delivery. Keep up the good work.
vijaya
I really happy with the product,lensekart people helped me out to use it,gud product at low price,keep continue these lenskrt
Great Product!
Easy to wear. No irritation at all. Very very happy with the product...
Brilliant Product
I have been using this product for over 2 years and the brand matters, Bausch & Lomb have given a wonderful product at such rate.
Satisfied
Nice and good quality product
Best
water cntent is 59%, which is pretty good
Excellent product
This is the first time of purchase in lenskart. Excellent product. Suits my eyes so well no irritation or any kind of problem. Very, very happy with this product great price and fast delivery... Thank u Lenskart & Teams...
Comfort for Low Value
Brilliant product! Absolute value for money.. Was delivered in a day! thanks :)
superb
It is really very soft and comfortable for all day long use.
Awesome product
Great product, easy to handle..full value for money..!! But no so gud service, delayed by 3 days..!!
Excellent
Very fast delivery, excellent product at a great cost...
Excellent product good quality
Thank you lenskart.com
Awesome!
Excellent product...Best Price...Great packaging & Service by lenskart !! will surely visit again!!
Very Comfortable Lens
I recently bought this product and it is very comfortable. Thank You lenskart.com
Good product, superb service
Excellent product - comfort, easy to maintain Lenskart service - 5star!
Best product and service!
Superb product and lenskart service was awesome. The lens fits perfectly on the eye.
cool
Its gud easy to fit . feel comfortable.
Excellent
it is quite an amazing product at a very best and reasonable price.
very good
have been using for 1 year now.... super comfy lens , worth every penny paid
Awesome
Its perfect fitting and best price
Super Value
Awesome product. Definite value for money. good quality at a good price cannot go wrong
Awesome
Great Product, one of the cheapest and best product in the range.
anand
Excellent product at such a low price.....My eyes got acclimatized on first day use only....
Excellent
Excellent Product. I will buy it again and again and that too from lenskart only.
* * * * * ( 5 star)
Very easy and smooth in handling . Good deal and quality
Good Experiance
I am using contact lenses last 2 years onward, i tried several expensive products, but after trying this Bausch & Lomb iconnect, I have changed my opinion to all low cost products are not bad, some case even better than expensive, exactly like this product..................... Highly comfortable product, such a great product in low price..........................
Thangam
Was a good product for the price.
Very good experience - Worth for money
Very good offers in Lenskart for the people who does not have time to the Optician and spend lot of money for the lenses. Best regards, eeshu reddy
My first lens
It was easy to use for the first time and the quality was also far better as my concern at this price... i would definitely recommend it..
Product review
I am using lens for the first time and these lens from lenskart gave me a wonderful experience. Really loved it.
Excellent product from flipkart
It 's first time I got a pair of contact lenses and lenskart gave me freedom from old glasses. Its a perfect fit to use for a longer period.
good product
super product
Good & trouble free for usage
Purchased the contact lens for my daughter and she started wearing the same from day one and no issues or trouble in the product.
awesome product
Bausch & Lomb iConnect is actually a good product , comfortable soft , easy handleable . you can buy this product without any hesitation and in fact price is very reasonable .
just waaooo
this is my first contact lens.i waited for it eagerly.It was delivrd on time. The most important thing its quality was very good.I love wearing it.Thanks to lens kart.
excellency at its best
perfect
THE BEST
Best Lens from Bausch and lomb. Affordable as well.
Very nice!product
I am a first time lens user and bought this product I must say that it is very nice easy and comfortable to use.once you put it in ur eyes u won't feel it is there(my experience) . No. Irritiation.
great product
good product great price
Amazing
I like these lenses a lot. They are very comfortable to wear and easy on the pocket plus a 100 rs discount was like cherry on the cake. Thank you Lenskart for the timely delivery, amazing price and quality.
best place to buy lenses and glasses
ordered at night. package delivered very next day. awesome it was. keep up the good work. authentic product, best packing, timely delivered . over all best. product also good. recommended for buying (Y)
awesome!!
These are really comfi to wear.
awesome!!
These are really comfi to wear.
Good Product
Iconnect lens are Low cost and Easy handling. Also Lenskart Service good.
awesome
comfortable and cheap
Very Good
Very good lens at very good price!
excellent choice
worth of paying
Perfect
Great lenses at a great price
good first lenses
Good lenses,I use it to play football
Just amazing
Kudos to Bausch and Lomb for such amazing product and lens kart for its wonderful service..Thanks!!
valentine day
i wore this on valentine ......and my boyfriend broke up with me......im so sad ...and now my lens is stuck in my eyes...i don't know how to change my eye color anymore...
Excellent!!
Amazing product! my 1st attempt with contacts...amazing experience......had no troubles......worth every dime.....ordering them again!
Rahul Shrivastava
2015-02-06
Excellent!!
This is first time with Lenskart products...but this amazing m totally sattisfied!!! Thanks guys!
Excellent product
price is very reasonable and very comfortable to wear
Excellent!
First of all I would like to write down few of my review points for Lenskart. . Excellent service . Quality products . Best replacement policy, and I mean it, its the best. . Timely delivery and quality packing. Now the lenses, . These are the only lenses that suit my eyes. The quality is fantastic and I am really amazed at the price. This is my second order and I am totally satisfied. A good option for sensitive eyes and eyes that dry out quickly.
Good Product
Used it for the first time and felt really good. truly a good product. Kudos to lenskart :)
Good for youth
Product is awesome.. u wont get the product at this price anywhere other than lenskart . its very easy to handle and affordable price range for students. i got deliverd the product on time and the packing was very good...am using the product for the past one month and i didnt felt any discomfort
Great product
The lens are very good. Very comfortable to use. These are available at best price at lenscart.
lens
My first contact lens.....Bausch and lomb at this rate ..... Wow... Had gr8 experience...No probs at all
Very nice
Very nice product. Very soft and easy handling.
good experience
no one can believe such low price
excellent
I received correct product in good packing condition and earlier than expected date.
awesome Product
awsome product at a very affordable price which is never available in the market so guys n gals just go for it....
awesome.. :)
comfortable n so cheap..
awesome.. :)
comfortable n so cheap..
good
Nice lenses... Clear vision... Worth of money...
Just Awesum.!!
These are the best and cheapest lenses i have ever used. Also it way is cheap at here than any other place. This iconnect pair is really comfortable and i will recommend this to all..
excellent
excellent worth paying. too light. and ordering them again.
excellent product
Your lens was excellent,i would like to buy product from lenskart again and again
awesome
its really awesome. product...i used to it last 4years..but lenskart gave me best deal....and service of delivery also very good
worth paying
simply superb.. cheap and best. comfortable for long hours. even after 12 hours i feel like my own eyes. no foreign body sensation at all.
Nice Product
Superb product with cool packing. but the shown details are not a deep information about product. otherwise the product is amazing. Now i am using the lens for 10-12 hours without dryness in eyes. I recommend this product. The price is slightly high comparing lenspick.com
value for money
It is worth what I paid for. With the big brand name, it does not require anything to say about the product. Amazing service and offers by lenskart
Excellent.....
Excellent product at such a low price.....my eyes got acclimatized on first day use only....
Excellent
My first contact lens.....bausch and lomb at this rate ..... Wow... Had gr8 experience...no probs at all
Sammy, Varanasi
2014-10-14
Good quality
I used these as my very first contact lenses and I really didn't feel any difficulty in using them.You can easily wear them all day out without any sort of difficulties.I highly RECOMMEND these as you can't find such good lenses at such a low price.I Just ordered another pair for myself!!
Super Comfortable affordable lenses
So far I have used: -Acuvue Moist 1-Day. Super comfy but expensive. -B&L Softlens Daily disposable. Expensive but a nightmare to wear. -Acuvue Clear montly lenses. Again drying my eyes hence not comfortable at all! (thats my experience, it might be different for you) Then I have tried B&L iConnect without any expectations as it is affordable. I will not try any other lenses anymore! Super happy with iConnect. Doesnt dry out my sensitive eyes, I actually forget sometimes that I am wearing them.
very comfortable
Using these lens since more than a year and I'm very happy with the results. You dont feel like you are wearing lens which is the best part.
Great
Used almost all monthly and yearly contact lenses, but i found these most comfortable and affordable. Awsome product, using these from past one year now
Yadav
Nice lenses...........
loved it!!!
Very happy with the product.. buying again for sure!!!! :)
Repeat user
I am using this for over a year ( i guess) now.. I am a very satisfied customer :)
Great Product
Very comfortable lens at a great. I came across this lens for the first time from lenskart and now I use this lens regularly. I recommend this lens and will order again from lenskart
Excellent Product
I have been using this lens from last 1.5 years and the lens are good and you do not even realize you are wearing one. Very comfortable. Great product at such a affordable price.
Just Awesome
the lenses r so affordable and best quality. Delivery was also so good.its so comfortable .Dont rethink to buy it.
****************************************************
EXCELLENT TTTTTTTTTTTTTTTTTTTTTTTTTTTTTTTTTTTTTTTTTTTTTTTTTTTTTTTTTTTTTTTTTTTTTTTTTTTTTTTTTTTTTTTTTTTTTTTTTTTTTTTTTTTTTTTTTTTTTTTTTTTTTTTTTTTTTTTTTTTTTT iam also number of your
nice product
got delivery in 3 days...............unbelievable service....
Its Realie v N!ce....!! Clear Vision...!! Worth It..!! HaPp!e :)
Its Realie v N!ce....!! Clear Vision...!! Worth It..!! HaPp!e :)
Best Best Best............
I am a new contact lens user and these are my 1st contact lens. At the beginning i felt difficult to wear and remove it but after using it 4-5 days everything was fine. Now these are the best and comfortable lenses. Also we get this at such an awesome price. I recommend it to everyone.
Affordable
dese r affordable n cheap, myself being a clg goer, its jst awesome. No hassle, fits my eyes just fine.
Good one
Really its good to wear. Cheap and best for college going students
Awesome product @ a cheap rate
I have used this for about a month and i m very happy with it. Still cant understand why its so cheap. I can see no difference between this and the Rs 746 one
very good n economical
u cant find such product in such less price, i have used it, very good , comfortable, & with affordable price
Comfortable and clear
This product is fine . The vision is so clear and it very easy to handle. Easy to wear and very comfortable even after wearing long hours. The service of Lenskart is real fast and good.
best lens eva used
this are the lenses my buying it fo second time it so comy by price nd comfort :) :D
Comfortable and clear
I brought this lens last month, nice and comfortable no irritation or any other issues, i will buy regularly
Really fast delivery
I ordered this product yesterday and it got delivered today afternoon....the product is also good...
definitely worth trying
Affordable and comfortable, What more would you want . Awesome brand and at such a great price. Awesome delivery time guys, didnt expect it to be honest. Great customer service. I am already a fan of lenskart. Kudos
VALUE FOR MONEY
Best lens ever in such a low price i am loving it.
Superb product
I am a regular contact lens user. These are the best comfy lens I have ever used. This is my 3rd pair I am buying from Lenskart. And I will keep on using these only... Very Happy with the product and much happier with the price... Thanks to Lenskart...
Worth the money
U r getting bausch & lomb at this rate! these were my first buy of lenses. n im not at all disappointed. in fact im buying again! feels good in the eye. good work lenskart.com!
Great Product
Great Product, very very comfortable and cheap, will definitely order again from lenskart, best product till now what I've used....
Tiya Prasad (Kochi)
2013-02-02
Good Quality
I started this 1 year before, it surprises me good quality with lowest prices. Thanks Lenskart.com.!!
Excellent
These are one of best lenses I have used till now. Its been 6yrs that I am using contact lenses. iConnect is the best. And Lenskart...I would like to appreciate your efficiency in delivering the product. Thanks a lot.
good
very comfortable for sensitive eyes
Best
best quality lens with cheapest price I will definitely buy next time................ thank u Lenskart.com
Best lens in the given price segment
Even compared to expensive lenses this is the best of its type. Good job B&L and Lenskart.com
Nice 1 Yaro!!!!
These are really a great lens as i have ever use. Great Job LensKart..Keep it up!!!
gr8t lenses
Dear Frnds , These lenses are the best lenses. I use these lenses gr888t lenses.
Good lens
The lens are good and you do not even realise you are wearing one. using it since a year now.
Great Comfort at the best price
True bausch & Lomb quality at such a geat price, I definitely recomend, and I will definitely buy again
Comfortable!
Tried these out for a change and they're really nice! Comfortable and clear vision. Going to order these again...
good
good for daily use at a reasonable price
Perfect Start for Beginners
Bought this contact lens for its low price, as i am beginner, i was afraid that whether i can wear lenses inspite of using my spectacles. Luckily this product was very well comfortable to me and low in price. cannot wear this lens for more than 8 - 9 hours, it causes some itchiness after 9 hours. other than this everything is fine. can go for it:)
Good to start
Its a good product, value for money to start. However, people with high power >2.5 may find that it keeps "feeling" as if you are wearing something, in which case Soflens or daily disposables are better as they are thinner. I have -2.75 and felt slight irritation with these. In the other eye with -1.5 power it is absolutely comfortable. You may go for soflens for higher powers, or daily disposables if you want maximum comfort.
very good sevice
easy to shop...and it is so comfort..
Good for short time use
Very aggressive pricing by B&L. Lenses are perfect. Good for use upto 4/5 hrs. After that they feel little dry.
Good for short time use
Very aggressive pricing by B&L. Lenses are perfect. Good for use upto 4/5 hrs. After that they feel little dry.
Good for short time use
Very aggressive pricing by B&L. Lenses are perfect. Good for use upto 4/5 hrs. After that they feel little dry.
Prices are superb
The same thing costs around 600 in GK-1. Obviously I;d rather buy two boxes from here!
Color..??
I want to buy this product.. but there is no information about the color of the lenses... which color is this... can anybody plz tell me
NICE
Nice lenses very comfortable
Excellent product at a great price
The product is awesome and the price at which lenskart offers it is the best. I have been using this product for 4 years now. It easy to handle and very comfortable
Great product
Very nice product, would like to buy it again.
good
excellent product for first time users.
good
have started using the i-connect lens from April 2015 and they have been quite good. even after keeping them on for 9-11 hrs, I generally do not experience any discomfort.
amazing
should try its really good.
1202621595
Very good service.
good
very comfortable to wear
i would recommend
nice product at good price
good for beginners, worth the price
you get 3 lenses per box, which are mothnly disposable. perfect for beginners
Good Service
I Received the Product on time. On this Price Range these are the Best Lenses.
nice
a good option for contact lens users because it affordable and disposable. i like it
Best Fit......... its real
I am new with contact lens, its very good for fitting for all the times. thanks
very good product worth the price if using for first time.
The experience was really very good. First time lens user here, took me two days to get the lens in my eyes. but when it did it felt excellent. First day it seemed like i would give up and keep it aside, but next day i was successful in putting my lens on, it was a lot of handwork. The product is excellent although I'd like to try other ones after this and find out the difference.
CONTACT LENSES
Dear @ lens kart delivery is very good the moment you place the order u will get delivery update on every step great experience. quality was gud though it's my first lens experience so I don't have comparison. good product great services.
Good
It was a good experience
comfortable
I am first time user. I purchase this on try basis to see how I feel. these lenses are comfortable do not itch
economic
comfortable and economic
Good
Lens are Good to wear even for a person without consulting a Doctor
Good Product
Well initially I had a doubt before ordering this product for someone I knew. It is a good product and lenskart had delivered it according to my requirements. Will recommend the site and the brand to friends.
Good Product in this Price range
Bausch & Lomb is a good product in this price range. i bought this second time and lenskart is the best place to buy and packaging is very good. fast delivery and i love lenskart and i will buy here again and again.
good product
beter discounts than buying from shop
Very Good
I am using these from last 1 year...no problem..but it feels sometimes little dry after 6 7 hours..otherwise great product at cheapest price..
Good product
Great product from baush and lomb in such a low price.
great lenses
i am a first time user of contact lenses. and so i ordered these cheap lenses. but i found them comfy and great. though i have no standard for comparing them. still great.
its great
This is the first time that I have used monthly lenses and I gotta say...I'm impressed.. Great comfort...and easier to wear Also lenskart delivers it so quickly....I received the product the very next day..Now that's called prompt
Contact Lens
Lens Kart is fast the delivery is very fast & quick, i am Happy to say i am provided with the best & reliable products every time i order on lenskart. Offers never ends on Lenskart. Thanks to Lenskart for making it easy & saving time :)
Great Quality! Value for Money
Great option for first timers! durable, easy to maintain.
Good
Better Lens in 1000 RS..
good lenses
I recently bought these lenses , quite good actually . Really soft and you can wear it for long hours. delivery service should speed up a lot.
Nice Lens
very comfortable lens
Good and affordable
Easy fit.
good one
nice easily wearable
good lenses
nice lenses... clear vision... worth of money...
Good For 1st time use
Good one for 1st trail. or in case of emergency
value for money
very good lenses can be used for short durations only,highly comfortable for 4-5 hr usage
Good
Very Good Lense at a very good price.
Best Buy
Best deal for Bausch & Lomb lenses. Best price and service by lenskart.
Good ones
Good ones at a lesser cost
worth money
best product in lenskart
give the product colour its difficult to find
plz kindy give the colour its difficult to find
Product Id : 38760
Bausch & Lomb iConnect (3 Lens/Box)
ORDER ON PHONE
(GIVE MISSED CALL:
+91 8470007367
)
CHECK DELIVERY OPTIONS
Please Enter Valid Pincode
DELIVERY OPTIONS TO CHANGE
Last Purchased 3 Hours 50 Minutes ago by Abhinav from Ranchi