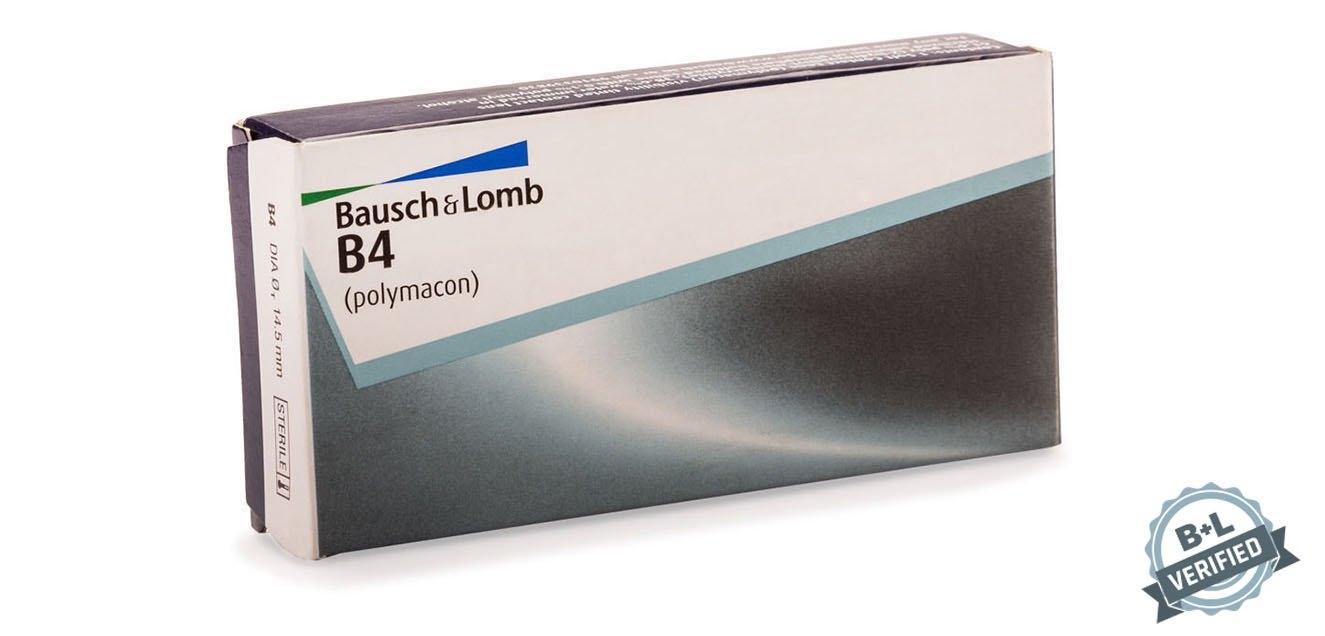 Product description
B4, Bausch & Lomb Daily Wear Conventional Lens (1 Lens per Box)
Editor�â�€�™s Note
B4, Bausch & Lomb Daily Wear Conventional Lens (1 Lenses/box) come with a unique spin-cast technology that keeps the moisture level constant and gives a spark to your eyes. They are extremely durable lenses and are easy to handle.
Description:
Offer great wearing experience
High water content
Extremely soft and comfortable
No redness, irritation or dryness
Product Features:
Brand: Bausch & Lomb
Water Content: 38.60%
Lens Material: Polymacon
Lens Type: Yearly Disposable
Usage Duration: 1 year
Packaging: 1 lens per box
Safety Measures & Expiry:
Care: Wash your hands with soap and water and dry them completely before touching the lenses.
Always clean your lenses gently with fresh contact lens cleaning solution.
Make sure you keep your lenses in a clean lens case to avoid eye irritation or infection.
Avoid wearing contacts overnight or while swimming.
Keep your contacts away from sharp objects, heat and pollutants.
Expiry: Minimum 1 year from the date of purchase
Technical information
technical
general
Model No.Daily Wear Conventional 1 Lens
REVIEWS
Excellent
I have been using this lens from last 9 months and it's been great!! No irritation and no redness in eyes, very comfortable in use.
completely satisfied
i have been using this lens past an year,they are very comfortable and make u feel as if u'r watching with your eyes without any disturbance.Now i'm going for my second order of this lens.THANK YOU BAUSCH AND LOMB and THANK YOU LENSKART
Awesome
I have no regret for buying this product from Lenskart. Its awesome and the delivery was so fast. I am satisfied and very happy with the product and the service. 5 star from me (in Shillong)
better for next purchase
better and best for me and also other
Excellent Quality
I am using these Lenses from last 10 years, i am really very happy with the quality, as they are very comfortable and gives a clear vision. With proper care these lenses can also lasts for 14 to 15 months easily. But it is advisable to change them every year. Strongly recomment this Product.
Awsome service
I m happy with the product and more happy with the service, I thank admin for the coordination and excellent service.
superb
superb quality lenes..............
superb
very comfy and superb quality
Ease of use and best price
Its gr8 to order something , I am a regular contact lens user and ordering it for the fifth time . U people doing gr8 , way to go...
Paridhi_Nanital
2013-06-03
extraordinary
Wearing these Bausch & Lomb lenses is an extraordinary experience. These are everything one seeks - Very fine and comfortable in wearing - Can be worn for hours - No dryness, redness or any other problem - Clear vision - Affordable price - Can be used for a year Negative: the delivery may take time as these are very much in demand. Other thoughts: get them for a wonderful vision
affordable and safe
just bought my second pair of lens and have been using the same brand for past one year. very good for beginners and folks on a lower budget. no irritations or dry eyes.
worth buying
Pros: easy to wear, extremely comfortable, can be worn daily for long hours, do not make you feel as if there is something in eyes, do not cause any irritation or redness, clear and crisp vision, affordable price, yearly replacement Cons: since replaced yearly so you need to clean them before wearing.
happy with them
I bought these lenses just a month ago and I am very happy with them. These are so comfortable in wearing that at times I even forget that I am wearing one. Extremely easy in wearing, these lenses do not cause any irritation or dryness in eyes. These are yearly disposable and give very crisp vision. Moreover they are priced at very affordable rates.
ok..but my eyes are getting dry
im writing a very genuine review(after usage of 5years) great price...very cheaper...good quality... easy to use...durable..in lower cost this is -the best cons:getting dry within 4-8 hours clear visibility till only 6-9 months
Product Id : 38724
B4, Bausch & Lomb Daily Wear Conventional Lens (1 Lens per Box)
ORDER ON PHONE
(GIVE MISSED CALL:
+91 8470007367
)
CHECK DELIVERY OPTIONS
Please Enter Valid Pincode
DELIVERY OPTIONS TO CHANGE
Last Purchased 2 Hours 4 Minutes ago by Deepika from Mumbai