Product Description
Aqualens Comfort Contact Lens Solution 360 ML
AQUALENS COMFORT SOLUTION is a multipurpose solution for cleaning, Rinsing, Disinfecting, lubricating, Double Moisturising and stores soft contact lenses. AQUALENS COMFORT SOLUTION is also indicated for daily protein removal from lenses. AQUALENS COMFORT SOLUTION multi purpose solution is a combination of Special agents , that cleans lenses better , removes protein more effectively , makes lenses germ free and keep them double moist so that they are more comfortable on eye. pH and isotonicity are adjusted to lacrimal fluid
Aqua Seal /Double Moisturizing effect :
Sodium Hyaluronate with HPMC forms a lubricating shield on the lens. Keeps in moisture, lubricate and coats the surface of lens which conditions lens and seals in moisture and slowly releases it through - out the day.
1.Locks in moisture and retains it in dry environments.
2.Fights lens dehydration due to pollution & varying environmental conditions
3.Protects from moisture loss all day long
4.Formulated for patients with dry and sensitive eyes.
5.Ideal solution for patients that find lenses dry out at the end of the day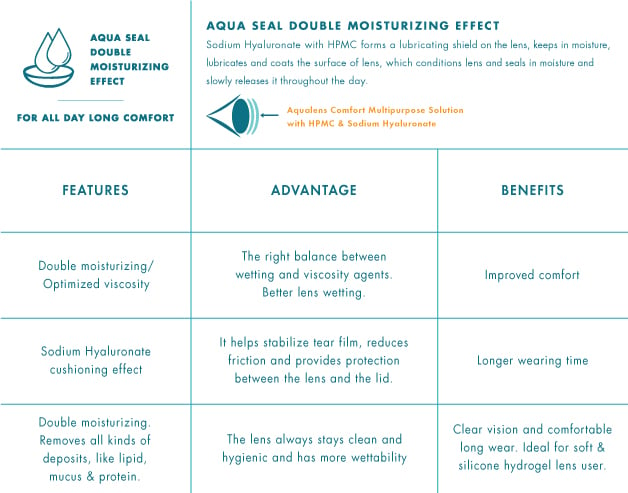 Technical Information
Model No.Aqualens Comfort Solution 360 Ml
Weight1.0000 (Learn More)
REVIEWS
Avg Rating
Have you used this product ?
Rate it now
Write Review
Great Team Support for a Great product
Realy Great Product, I love it and always having a good support and ambiance from Lenskart.. As usual the staffs who engaged with me like Mahalakshmi and balakrishnan with team supported me well and great Keep going..
Grt product
Really good and I am happy to have bought this
Great Product, and a greater delivery by lenskart
The product is really great. I can easily see the difference between other solution I have been using and this one. It cleans and moisturizes the lens real good. I have a problem of dry eyes while wearing lenses, but it lessened the dryness even on first try Additionally, hats off to the delivery by Lenskart team. It arrived within 2 days! Also the customer service executives are really helpful and friendly when I called them regarding a doubt I was having.
Very Good
I was very much satisfied with Lenskart.... They have quiet a small delivery time & prompt service. The only thing was that the small mistake of not including the free gift with the package which was rectified later.... Overall Good Experience....