Product Description
Aqualens 24H Toric Contact Lens (3 Lens/Box)
Features
Advanced 3rd generation SiHy technology
Optimized Toric Lens Geometry
Stable fit, minimal lens movement and clear vision
Easy handling
Class 1 UV protection
High-performing Silicone Hydrogel matched with superb visual consistency
With the combination of advanced material and Optimized Toric Lens Geometry, Aqualens 24H Toric contact lenses are great lenses at a value that astigmatic patients are looking for.
Featuring our latest SiHy formulation, the Aqualens 24H Toric- toric material technology represents some of the best thinking from CooperVision on how to design a high-performing lens. Since SiHy allows more oxygen to pass through to the cornea than hydrogel, users will appreciate the benefits of a healthier lens-wearing experience. Aqualens 24H Toric- toric lenses provide 4 times the oxygen transmissibility of leading hydrogel frequent-replacement toric lenses, which helps maintain optimal ocular health.
Product Details
UV protection
- Yes
Oxygen transmissibility
- 90 Dk/t (at -3.00D)
Thickness
- 0.1
Design
- Optimized Toric Lens Geometry
Sphere power
- Plano to -10.00D (0.50D steps after +/-6.00D)
Cylinder power
- 0.75D, -1.25D, -1.75D, -2.25D
Axis
- From 10 degrees to 180 degrees in 10 degree steps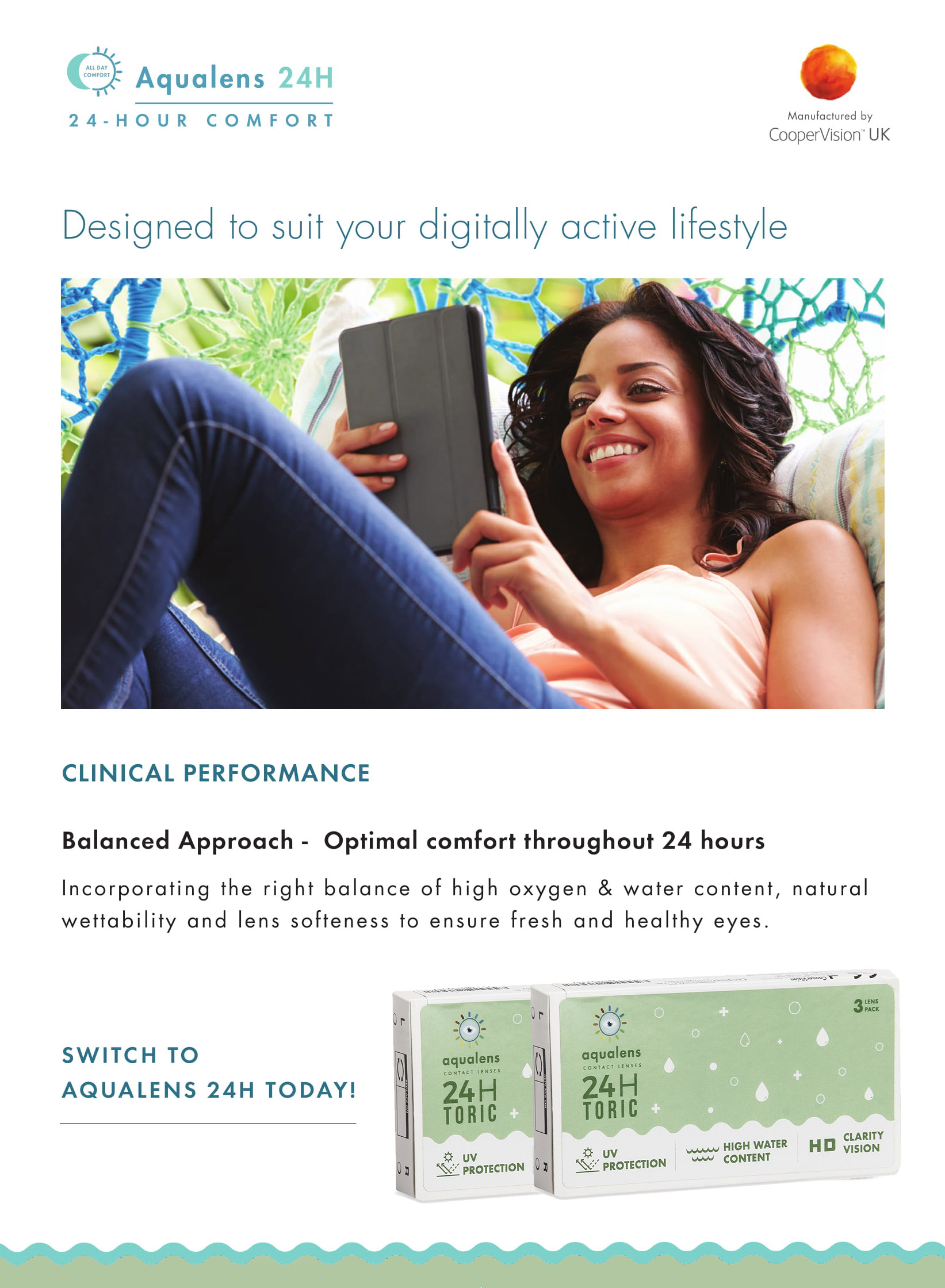 Technical Information
technical
general
Model No.
Aqualens 24H Toric
Weight
0.6000
(Learn More)
Lens Material
Fanafilcon A