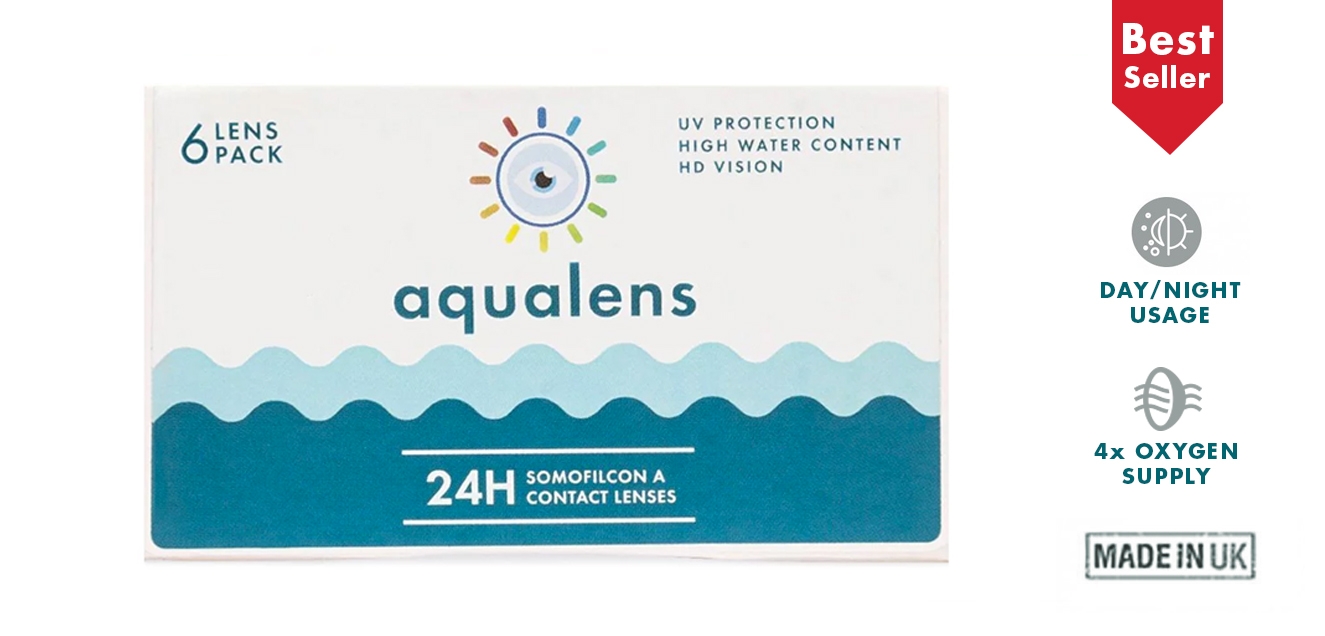 Product description
Aqualens 24 H Monthly Disposable (6 Lens per Box)
Editors Note
Somofilcon A material in Aqualens 24 H Monthly Disposable (6 lens/box) makes these one of the healthiest contact lenses which allow 4 times more oxygen for all-day comfort. With 56% of water content, these lenses offer continuous wettability for 24 hours.
Description:
Offer great wearing experience
High water content
Extremely soft and comfortable
UV protected lenses
No redness, irritation or dryness
Good for prolonged usage
Product Features:
Brand: Aqualens
Water Content: 56%
Lens Material: Somafilcon A
Lens Type: Monthly Disposable
Usage Duration: Monthly
Packaging: 6 Lens Box
Safety Measures:
Care: Wash your hands with soap and water and dry them completely before touching the lenses.
Always clean your lenses gently with Aqualens Comfort Contact Lens Solution.
Make sure you keep your lenses in a clean lens case to avoid eye irritation or infection.
Avoid wearing contacts overnight or while swimming.
Keep your contacts away from sharp objects, heat and pollutants.
Warning
Aqualens 24H is not allowed for over night wearing or wearing beyond 24 hours. Aqualens 24H is allowed to wear only in all-waking hours. For detail contact your eye care practitioner.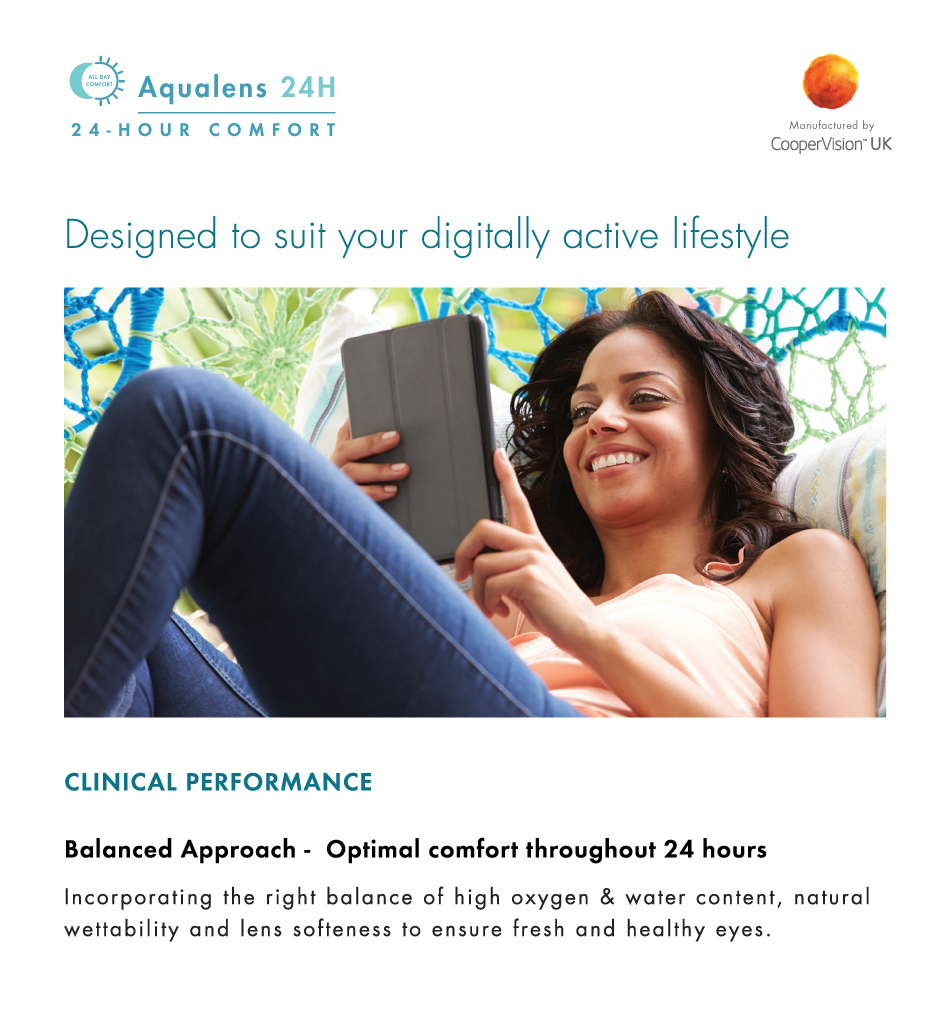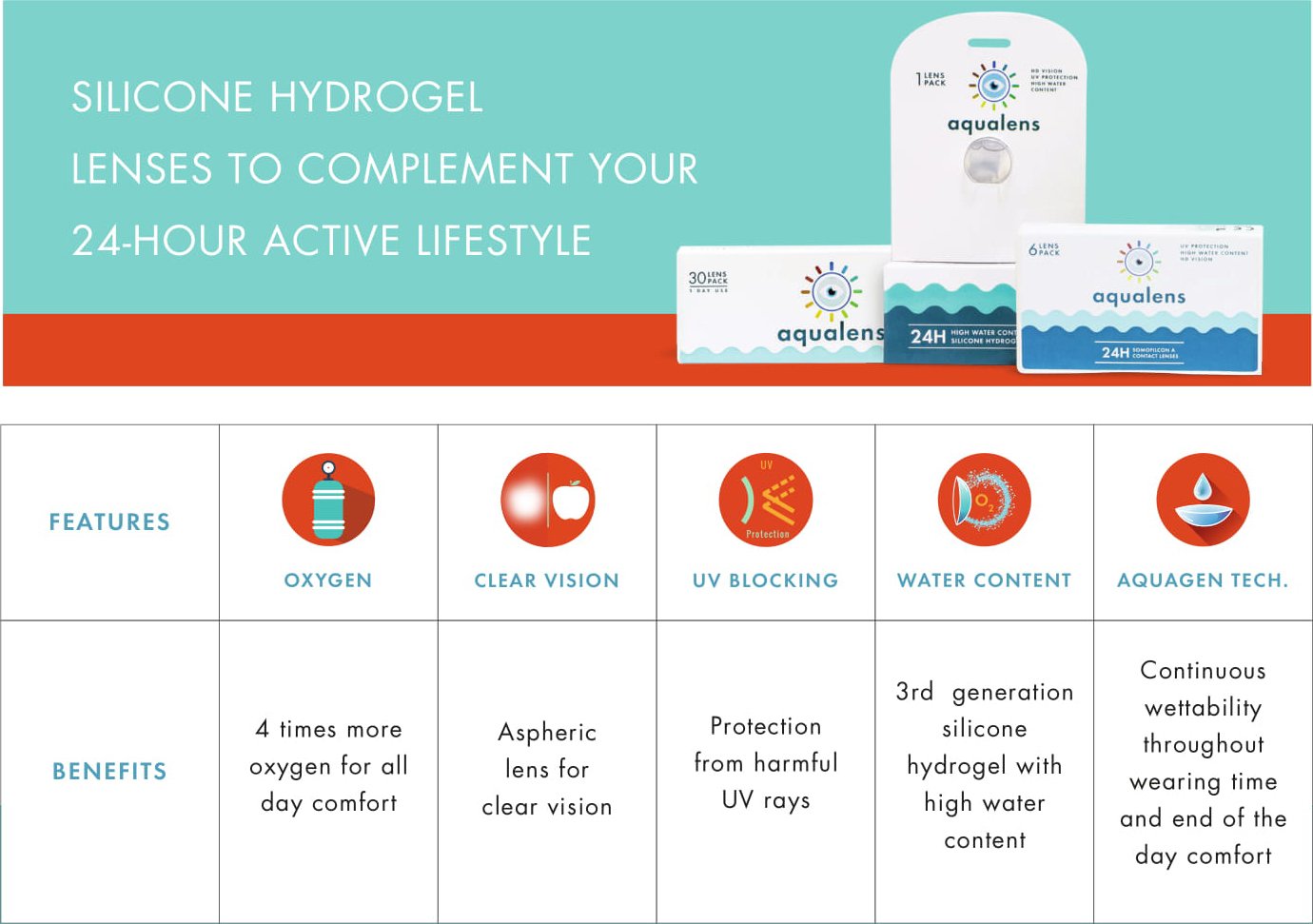 Technical information
technical
Product TypeCL Super Fast Moving
general
Lens MaterialSomafilcon A
REVIEWS
It's the best
Very comfortable and better than any other lens
Great
very confortable to use
great for those who hate glasses.
One of the best ever. They are actually made by coopervison so it's awesome.
good value
This is a great product . I work in the night shift and have odd work timings but these lens have not had any negative impact. On the contrary I am more comfortable using these lens than my specs
Best lense
These are the best lenses ive tried. I was so surprised when i put it on.
Most comfortable so far!
I have been using lenses for nearly 2 years- for the first time I changed the brand and tried this and it is much easier to insert as well as more comfortable to wear.
Nice Contact Lens
Nice Contact lens, No feeling of lens even in evening.
Good experience
Hi, I had come across these lenses on Lenskart. A few days back I visited my doc and he said, I am getting dry eyes now, hence to use eye drops frequently. These lenses have more of water content and lens i tried single packing of these. I likes the product after using it and have bought 2 packs of 6 pieces again. I am really happy with the product. I can wear lenses comfortably and for long hours without drying my eyes.
Go for it if you are using it for longer duration on the day
Aqualens 24H lenses are actually good if you are wearing it for longer duration say 15-18 hours. you won't have any issues with it & you will also not feel the dryness in eyes for using it longer.
best in price
better than aqua oasis n anyother brand ..must try it
good
wore it for 18 hour .........better than other lenses
Product Id : 118539
Aqualens 24 H Monthly Disposable (6 Lens per Box)
ORDER ON PHONE
(GIVE MISSED CALL:
+91 8470007367
)
CHECK DELIVERY OPTIONS
Please Enter Valid Pincode
DELIVERY OPTIONS TO CHANGE
Last Purchased 1 Hour 49 Minutes ago by Nikita from Bengaluru