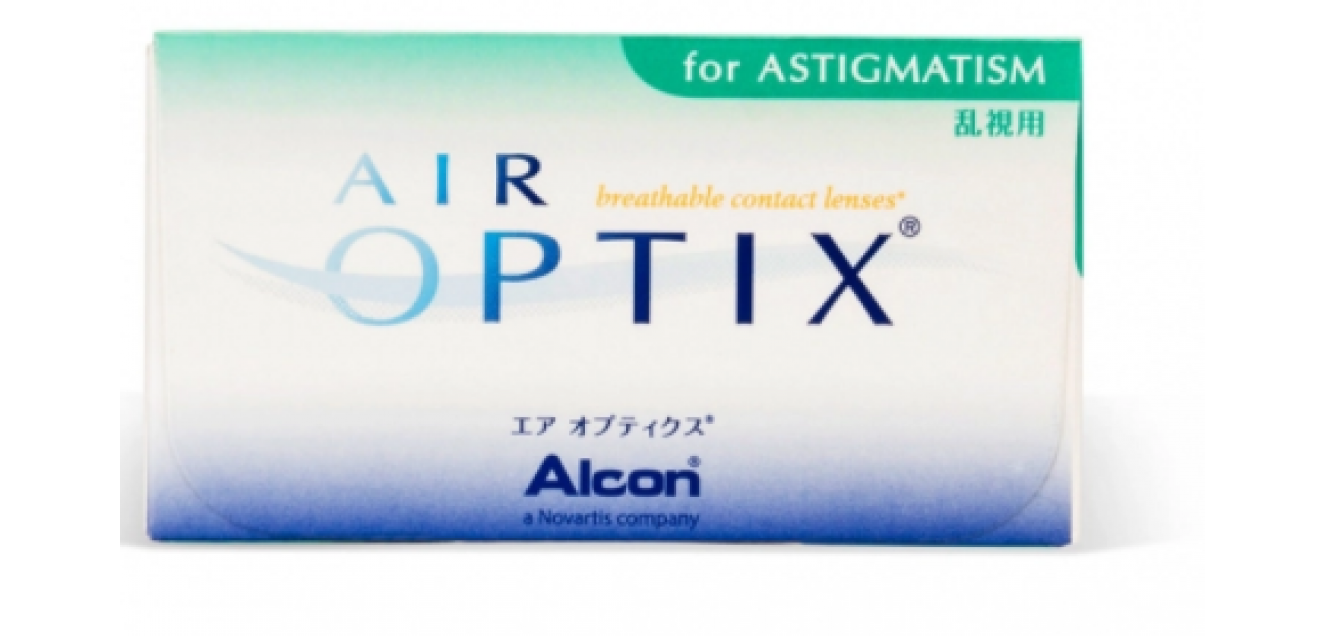 Product description
Air Optix for Astigmatism (3 Lens per Box)
Editor's Note
Air Optix for Astigmatism (3 Lens/box) are made with the most versatile material for the eyes i.e. Lotrafilcon B which strains minimal and provides the comfortable feather touch to sensitive eyes.
Description:
Offer great wearing experience
High water content
Extremely soft and comfortable
No redness, irritation or dryness
Product Features:
Brand: Alcon
Water Content: 33%
Lens Material: Lotrafilcon B
Lens Type: Monthly Disposable
Usage Duration: 1 month
Packaging: 3 Lens/box
Safety Measures & Expiry:
Care: Wash your hands with soap and water and dry them completely before touching the lenses.
Always clean your lenses gently with fresh contact lens cleaning solution.
Make sure you keep your lenses in a clean lens case to avoid eye irritation or infection.
Avoid wearing contacts overnight or while swimming.
Keep your contacts away from sharp objects, heat and pollutants.
Expiry: Minimum 1 year from the date of purchase
Technical information
Model No.

Air Optix For Astigmatism
Lens Material

Lotrafilcon B
Expiry

Min. 1 year from date of purchase
REVIEWS
Excellent and affordable
I was using Baush & Lomb Pure Vision2. I found this one and decided to give it a try as the price is lower. I found the performance to be excellent with daily wear. Ordering 4 boxes now.
Very Good
Very good contact lenses for astigmatism. Very much comfortable for all day usage. Better than bausch and laumb
Excellent
Actually earlier I had used acuvue but didn't like it because it was discomfortable sometimes in the eye. So ordered this and it worked fantastically
Very Good quality. Highly Comfortable
Using these lenses continuously for three months now alongwith optix Replenish (Renu causes a lot irritation to my eyes). I used Baush & Lomb softlens but they used to dry out and start irritating my eyes after just few hours but these lenses are really comfortable over long period. They actually coaxed me back to wearing lenses on a daily basis. One should really try these out if they feel irritated by normal hydrogel lenses. Price: It's similar to optical shop's quoted price but I ordered from lenkart because I like to view the shipping status on my own without relying on shops. Comfort: 5/5
extremely comfy
Finally I found contacts compatible with dry eyes... Great feeling !
Nice hydrogel lenses
I use to wear for it for nearly 15 hours. it's amazing.No irritation. make sense to wear a perfect lens for eye i.e Air Optix
Contact Lens
Very good pair of lens. Can be worn constantly for 12 hours at a stretch without the eyes feeling dry.
good durable lens, Dk/t: 138
very good choice, higher dk than accuview oasis lens generation 1 lens that is plasma treated (very smooth)
Superb lens!
I have Astigmatism in my left eye and this lens have proved to be the best for Astigmatism. I had issues with other brand Astigmatism lenses.
Great Product
Comfortable for all day extended wear. Vision similar to glasses, accurate correction
Very good product ..extremely comfortble
Using it regularly for past 6 months for atleast 12 to hours per day. very comfortable to wear them .. only disadvantage is new lenses are a bit difficult to remove for the first few days..apart from that awesome product
Very comfort, Stick to eye easily, No issues
Hi, Earlier i am using Bausch and laumb but worse experience with those, Means after 15 days of usage lens will not stick to eye, feel dry, Feel like dust on eye, But Air Optix is superb feel like my own eyes, Easy stick to eye, good Durability, No itching, no redneess, etcccc.. super, I am returning Bausch product buying again O2 optix, Note: Ciba visoin, Air optix, O2 optix all are same material and belongs to same brand ALCON.
User experience
It is very soft compared to other I have used till now.
Good product
Very soft and comfortable
good product
good range of lenses. they are said to be breathable. fit is comfortable and can be worn the whole day
Good buy
Its my first experience of using contacts. They are good and feels natural. The product is good and lenskart service is awesome.
Great quality, now more value for money
Great lenses, extremely comfortable to wear, and at a great price. Though these require a bit of maintenance (regular cleaning and change of solution every day, they did not suffer too much damage even with my careless handling. I've worn these >12 hrs a day and felt no significant discomfort, though a bit of dryness results with long hours in front of the pc. Great use for sports or outdoor activities. I find them a blessing during long bike rides (~500 km a day). Highly recommended to not use beyond 30 days, even if not used everyday.
Air Optix for Astigmatism (3 Lens per Box)
ORDER ON PHONE
(GIVE MISSED CALL:
+91 8470007367
)
CHECK DELIVERY OPTIONS
Please Enter Valid Pincode
DELIVERY OPTIONS TO
CHANGE
Last Purchased 10 Hours 27 Minutes ago by Banashree from Bangalore