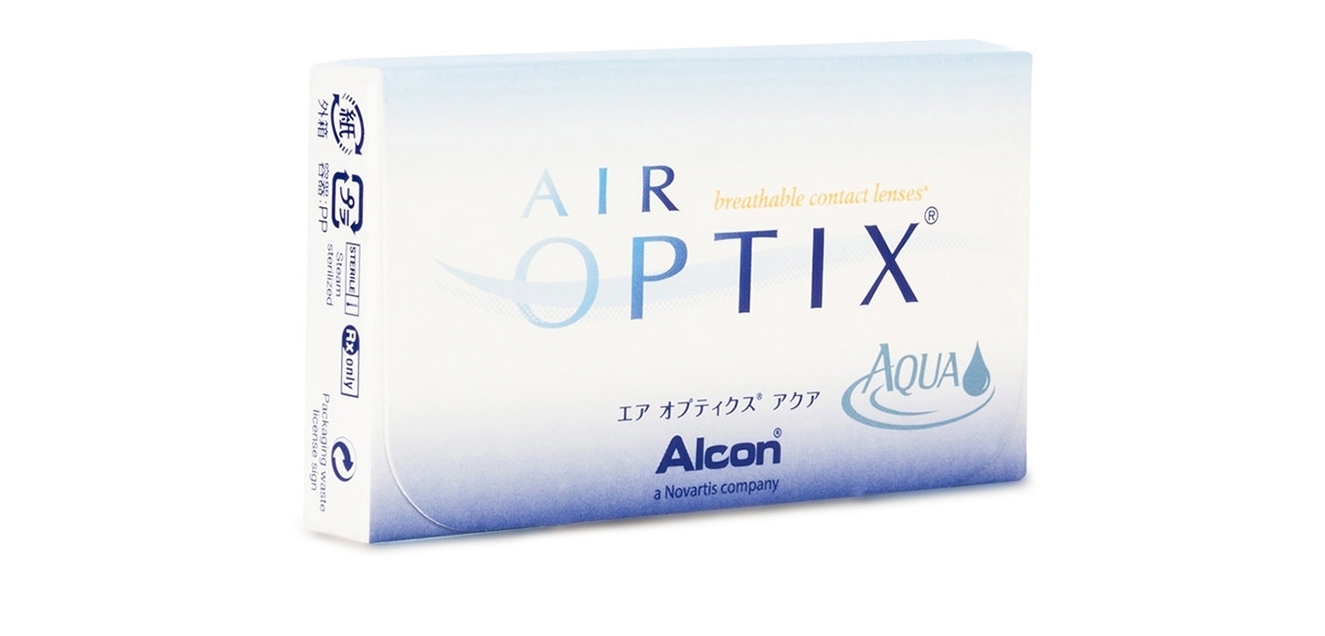 Product description
Air Optix Aqua (6 Lenses/box)
Editors Note
Ciba Vision Air Optix Aqua (6 Lenses/box) keeps your eyes fresh and comfortable from the very moment you wear them till the time of removal. The rich flow of nourishing oxygen helps to retain moisture and let your eyes breathe.
Description:
Offer great wearing experience
High water content
Extremely soft and comfortable
UV protected lenses
No redness, irritation or dryness
Good for prolonged usage
Product Features:
Brand: Alcon
Water Content: 33%
Lens Material: Lotrafilcon B
Lens Type: Monthly Disposable
Usage Duration: Monthly
Packaging: 6 Lens Box
Safety Measures & Expiry:
Care: Wash your hands with soap and water and dry them completely before touching the lenses.
Always clean your lenses gently with fresh contact lens cleaning solution.
Make sure you keep your lenses in a clean lens case to avoid eye irritation or infection.
Avoid wearing contacts overnight or while swimming.
Keep your contacts away from sharp objects, heat and pollutants.
Expiry: Minimum 1 year from the date of purchase
Technical information
technical
Product TypeCL Super Fast Moving
general
Lens MaterialLotrafilcon B
ExpiryMin. 1 year from date of purchase
REVIEWS
Best lens
These are the best lens . They are very comfortable and you can wear whole day with no discomfort in eyes at all.
Awesome product
It's Awesome product I have used Bausch & Lomb previously compare to Baush& Lomb Air optix Aqua 10 time better I didn't suffer any dryness with this product
Best in its category
Been using them for years. Probably the best out there.
Simply Brilliant !
I have been using this for the past 1.5 years and I must say I've finally found a pair of lenses that my eyes have accepted :) Infact, I had given up using soft lenses and switched back to O2 semi-soft lenses as none of the available soft lenses in the market seemed to work for me. I am glad that one of the well known eye clinic suggested this product and it really worked! Though this is bit expensive, the great offers from Lenskart is helping me not to think too much about the money spent.
Unbeatable Quality
Though a little high priced otherwise, lenskart gave me the product at nearly half the cost and delivered the next day itself. Thanks a lot! The lenses are very comfortable to wear and soft. Most of the other Contact lenses make my eyes run dry and eventually heavy by the end of the day, but these r better. I have used the same pair for almost 2 months with little issues of dryness, but no harm. The recommended liquid for these is Opti-Free
Excellent
I initially tried Baush & Lomb as everyone was recommending them, but they turned out to be very uncomfortable as they were very thin. Not sure if the material was also a problem, but then someone recommended these CIBA Vision Air Optics Aqua and they are a world apart from others. Excellent quality and long lasting. Have had no problems with them at all. Even used some pairs for more than a month, even though its not recommended. :) Will recommend this to anyone in a heartbeat.
A perfect lenses for monthly use
I have been using this lenses from last 3 years and I really love this product. Its very comfortable. Go for it friends ! 5 Stars for LensKart delivery as well. Kudos guys. Keep up the good work!
its awesome product
its outstanding contact lenses among all. But, im confused between o2 and air optics. Once i forgot to dispose contact lens and continued using same for 3months it was fine till. Later i realized, i had used it for such a long time.
Good product must try!!
I have been using this product for last 6 months and this is really good product as compared with Bausch & Lomb Soflens 59 which I used for 6 months. Air optix aqua doesn't stick to the eye lids during power nap(not recommending anyone to wear while sleep as it may damage the cornea), gives crystal clear vision and doesn't cause irritation(i have worn it for more than 13-15 hrs due to late night party after work don't make it a habit) but u won't feel irritation even after wearing for 12hrs everyday.Material is so good that I don't even feel I'm wearing contacts. I even wash my face wearing contacts on as i know it won't come off while getting cleansed or get stuck to my eye lids.Thanks to Lenskart for 30% discount benefit on my credit card I ordered my lens on 26th June,2014. You will stop touching your eyes as there is no irritation while wearing it on. Must try!! Recommended.
Excellent lens
i have been using contacts from the past 10 years and now the Big brands are not good quality .. I feel there is no better lens than Air Optix in india .. You feel fresh even in night .. Wish they launch the DAY and NIGHT Model also in India .. Samee
these are very good
these lens are very goood and comfy i sleep wearing them no problem ... :)
Amazing
Using for around 3 years now.. Not a complain.. Worth the money.. And as rightly said earlier, you can sleep, cry or wash your face with them on, no issues what so ever.. Highly recommended though the most expensive of the lot.. Must buy!
good
they are comfortable to wear, i have switched from baush and lomb to this brand after using B & L for many years
Intesreted_in_lens
2015-02-05
Good purchase
I have been using these lens for past 4 years. Earlier to that i have used a variety of other products. These are comfortable and can be worn for long long hours without much irritation. Though not recomended, I have slept wearing these for 4 hours straight without having them to stick in my eyes like most of the lenses do. I suppose they hydrate the eyes well, keep the moisture levels good and most importantly i got a discount of 1k. Overall I am a happy satisfied customer!!!
Good product
These lens are very comfortable for long duration. I would recommend this to anyone. But before you buy any lens in bulk, go for a trial lens and make sure your eyes are happy. Packing and Delivery was okay.
A comfortable lenses
The most comfortable one. they are my first lenses and stil i use them never feel like u r wearing a lens.
Pranav_Sikandrabad
2013-06-03
worth buying
These lenses are very comfortable to wear. I bought them about a month ago and fond them worth all money spent. These are so comfortable that I can wear them for hours without getting any redness or dryness in eyes. These lenses give a crisp and clearer vision and are smudge free. These have been designed so that air flow is maintained through them which prevent dryness. Moreover Lenskart offer these contact lenses at 15 per cent discount.
good
i really feeling good after using this product..bcoz this is the first one of my life.................
Good
This was a repeat order as I wanted the same contact lens. The product reached on time & there was no issue with the product. But I have 1 concern that I have ordered cibavision Air optix. If I buy the same product in the local medical shop anywhere in hyderabad, I see "CIBA VISION" logo on the box. But the lens delivered to me from Lenskart.com has "ALCON" written on the same. I am confused as to whether it is the same product OR this is some other product. I lodged an enquiry immediately the next day with lenskart customer care executive. But no body called to clarify why the logo is different. I still doubt if this product is sourced from CHINA ?
bakwas
bakwas plz dunt use
Product Id : 38732
Air Optix Aqua (6 Lenses/box)
ORDER ON PHONE
(GIVE MISSED CALL:
+91 8470007367
)
CHECK DELIVERY OPTIONS
Please Enter Valid Pincode
DELIVERY OPTIONS TO CHANGE
Last Purchased 2 Hours 31 Minutes ago by Shweta from New Delhi